Cryptocurrency markets have emerged as an attractive investment option in recent years. Here, we hope to give you valuable information about cryptocurrency investing, the cryptocurrencies to invest in 2022, and how to choose the best from over 18,000 cryptocurrencies available in the market today.
Which Crypto is Best to Invest?
Finding the best cryptocurrency to invest in can be difficult, but when you know what you're looking for, the choice becomes easier. There are numerous options in the market and experts employ various criteria for selecting the best-performing cryptos for investment. The list below takes a look at the top 10 cryptos to invest in 2022 using market cap value as the base criterion. Market capitalization figures are as of July 2022.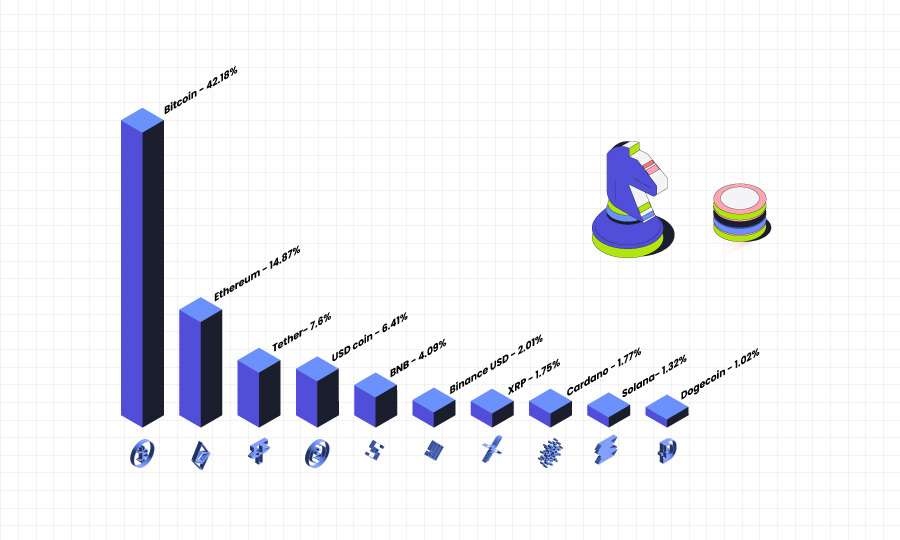 Bitcoin (BTC) – $427.71B

One of the top cryptos to invest in 2022 is Bitcoin. As one of the first cryptocurrencies in the market, Bitcoin has gained a favorable reputation in the market, leading in terms of both market cap and performance. While Bitcoin has had its share of downturns, it has managed to withstand pressures that have affected other coins. Currently, top companies such as Microsoft, PayPal, and Starbucks accept Bitcoin as payment, a development that highlights its mainstream acceptability.
Ethereum (ETH) – $144.23B

When investors consider the top cryptos to invest in, Ether is by far the second-best option after Bitcoin. As the closest competition to Bitcoin, Ethereum has a strong market valuation and stable performance. Ether's popularity is driven by the rising demand for its blockchain projects that support decentralized finance (Defi), non-fungible tokens, and other crypto coins. With Ethereum projected to become the most utilized blockchain in the market, Ether's value is predicted to rise.
Tether (USDT) – $71.50B

Tether is a popular altcoin whose market cap has increased significantly in the past two years. As a crypto investment opportunity, Tether attracts confidence because of its 1-to-1 peg to the US dollar. For investors, Tether can be a safe bet during volatile market shifts because of its changeability with the US dollar.
USD Coin (USDC) – $54.13B

USD Coin is another popular stable coin that is pegged to the US dollar. An attractive aspect of USDC is that it was launched following a collaboration between two reputable organizations, Circle and Coinbase. USD Coin holders are confident about the stability of USDC because it's transparent, regulated, and backed by reserves. For crypto investors, USDC is a safe bet for stable returns amid extreme market volatility.
Binance Coin (BNB) – $36.35B

Binance is one of the largest cryptocurrency exchanges globally and its native coin is clearly benefiting from its dominance. It enjoys a huge trading volume as users find the features of the platform very useful for crypto-related transactions. The stability of the Binance platform is a positive influence on BNB, which helps users enjoy lower transaction costs and commissions.
Binance USD (BUSD) – $17.45B

Binance USD is a stablecoin that was launched following a partnership between Paxos and Binance. One advantage of Binance USD is that it's backed by the US dollar, which means that it enjoys more stability than most cryptos. BUSD's popularity is further enhanced by support from the New York State Department of Financial Services (NYDFS).
Cardano (ADA) – $16.79B

In 2022, Cardano may be one of the best cryptocurrencies to invest in since it's supported by a blockchain that's faster, cheaper, and more secure than most. With its proof-of-stake consensus model, Cardano lowers the energy costs of verifying transactions, which makes it a competent alternative to Bitcoin which uses the slower proof-of-work model.
Ripple (XRP) – $15.15B

Judged by market cap, XRP is one of the strongest cryptocurrencies in the market. Analysts predict that XRP might become the new Bitcoin, thanks to its huge gains, low processing time, and cheaper transaction costs. A concern with Ripple is that a legal tussle with the US Securities and Exchange Commission (SEC) has affected its current market price. However, if XRP survives, investors are likely to make sizable returns.
Solana (SOL) – $10.03B

Solana is a rising star and in a few years, it might become a strong rival to Ethereum. As an open-source project, the Solana blockchain offers developers a platform that supports DeFis and dApps alongside fast transactions and low fees. The strong foothold of the Solana network directly benefits its native crypto which might burst into mainstream popularity with the completion of current projects.
Dogecoin (DOGE) – $7.41B

Dogecoin is one of the most successful meme coins in the crypto market which suits both small and large investors. With endorsement from celebrities like Elon Musk, Dogecoin has made massive strides, rewarding holders with huge returns. However, on the downside, there's no lifetime cap on the number of coins that can be created—a factor that exposes Dogecoin to possible inflationary trends.
How to pick the best crypto to invest 2023?
To choose the best crypto to invest in, experts suggest users consider some vital aspects.
Market cap value

Market cap value is a reliable way to select the best cryptocurrencies for investment as it indicates the total value of a crypto. For investors, the market cap is a reliable indicator of a solid crypto asset since it signals how many people have invested. Cryptos with low market caps are usually newer in the market and considered speculative by crypto investors.
Historical performance of the coin

Another approach to zero in on the best crypto is to check its historical performance. Reliable cryptos rise steadily over time, are usually listed on popular exchanges, and have little or no controversies. Of course, some popular cryptos today are exceptions after experiencing security breaches.
Fundamentals of the coin

Cryptocurrencies have various fundamentals such as their transaction values, fees, hash rates, status, and active addresses. Top cryptos such as Bitcoin enjoy strong fundamentals because they can survive analyses and verification checks where others might fail. Before choosing a crypto asset, checking how its fundamentals compare to others in the market is an important step that would provide insights into its value.
Crypto Investment Options
Where to buy?

Another means of deciding the best cryptocurrencies for investment is to check whether they are easy to purchase. Cryptocurrency exchanges accept cryptos with proven records, clean histories, and transparent use cases. If the crypto in question is not listed by major crypto exchanges like Coinbase, BlockFi, or Coinswitch, it might be a risky investment. A crypto asset, which is not supported by major exchanges, might be tough to sell and might face serious security concerns.
How to buy?

Buying crypto is another useful indicator of the best cryptos in the market. Top cryptos usually require the buyer or seller to have an account on a crypto exchange such as CoinSwitch where they have to undergo ID verifications and connect affiliate bank accounts. Users can buy a majority of top cryptos directly with accounts after they deposit funds to their preferred exchanges.
FAQs
What to Know Before Investing in Cryptocurrency?
Before investing in cryptocurrency, research extensively, understand the risks, only invest what you can afford to lose, use secure wallets, beware of scams, and consider diversification for a balanced portfolio.
Is Cryptocurrency a Good Investment?
Cryptocurrency can be a potentially high-reward investment, but it carries significant risks due to its volatility and regulatory uncertainties. It's essential to carefully assess your risk tolerance and do thorough research before investing.
How Much Money Do I Need to Buy Cryptocurrency?
You can buy cryptocurrency with any amount of money. Some platforms allow you to invest as little as a few dollars, while others may have minimum purchase requirements. Start with an amount you're comfortable with and consider transaction fees.
Are there any transaction fees for crypto investments?
Yes, there are often transaction fees associated with buying, selling, and transferring cryptocurrencies. These fees can vary depending on the cryptocurrency exchange or platform you use and the type of transaction you perform. Always check the fee structure before making any transactions.