There is a lot of talk going around about mining on Ethereum going obsolete. Many are worried that the miners of the popular network will have to find other sources of income.
Why is this happening?
Simply put, it's because Ethereum has dropped the Proof-of-Work (PoW) mechanism of verifying transactions, to adopt Proof of Stake (PoS), through an upgrade called the Merge. (Read more about the Merge here.)
But does that necessarily mean that the miners will go out of work? Dig in to find out.
The Merge and "Diverge": The ETH fork and what it means for miners
Let's start with the basics. Upgrades like the Merge are a kind of fork. In blockchain technology, forks basically refer to an upgrade that brings about a change in the network operation. They are usually initiated by developers or members of the chain. There are two types:
Soft forks: This kind of fork is like an upgrade to the software of the older version of the chain.
Hard forks: These are upgrades that bring in some major changes. There usually is some disagreement between two groups about the future of the blockchain which ends in a permanent split in the chain. The split brings a new and entirely separate blockchain into existence.
A fork of the second type took place soon after the Merge. The fork had to do with disagreement over Ethereum's shift to PoS. With the Merge, miners on the Ethereum network lost their jobs to validators. The subsequent hard fork was meant to open options for them.
Is ETH mining going to die after the Merge?
With the move to PoS, validators take over from miners and become in charge of approving transactions and adding them to the Ethereum blockchain. Validators are individuals who either stake or lock up ETH to get a chance to approve transactions. In return, they are given rewards. The staked ETH keeps the network running.
With the changes that have been implemented, ETH mining does look like it could die. But ETH mining is likely to live on in a different form. An afterlife of sorts. This has to do with the high cost of the mining rigs that miners have already invested in.
Miners, naturally, do not want to lose any money by putting them up for sale. Some ETH miners, therefore, proposed a hard fork that enabled them to continue mining with the PoW version of Ethereum, which is called Ethereum PoW (ETHPoW).
The PoW hard fork enabled miners to mine a different token with the same equipment. So no, mining isn't over yet in the world of Ethereum forks.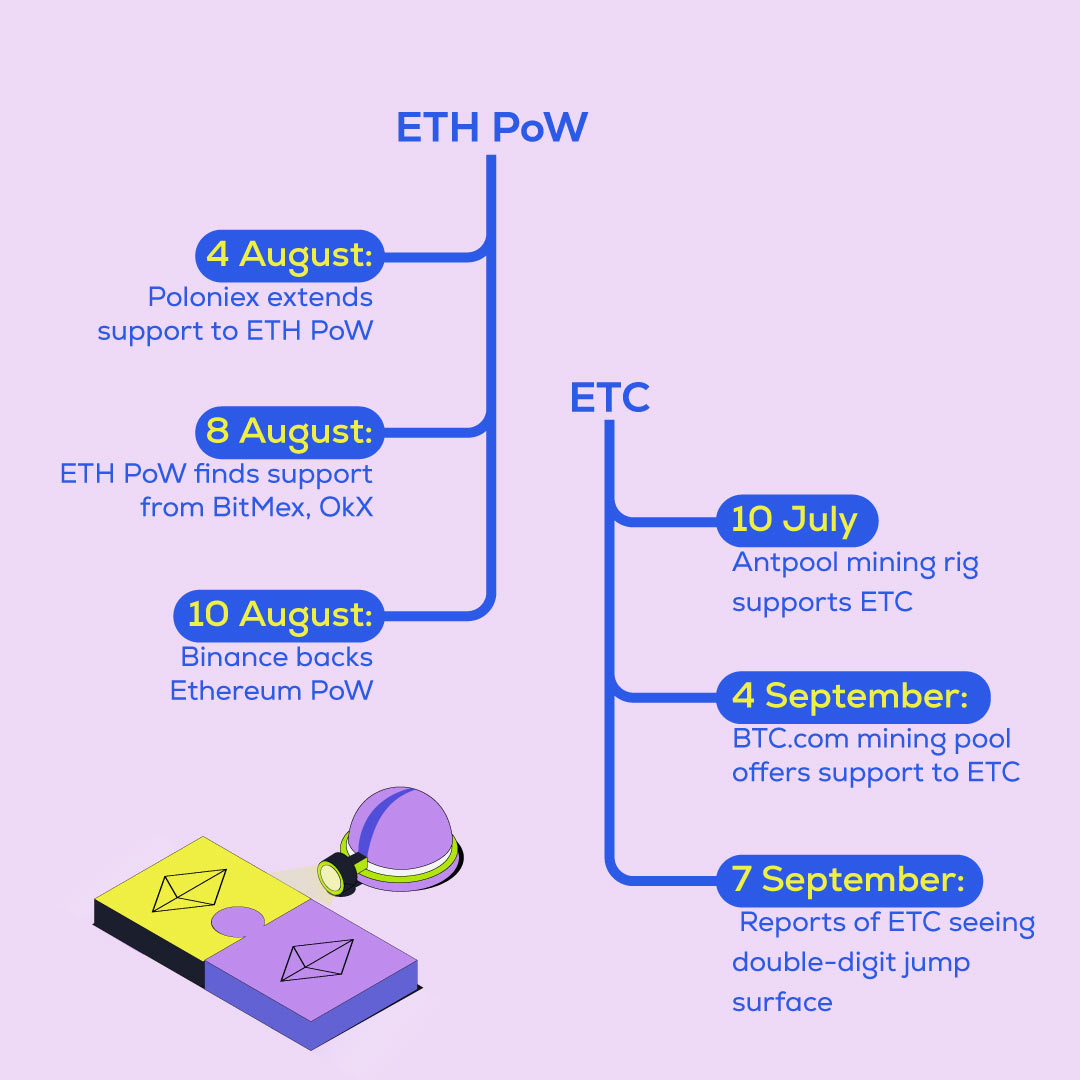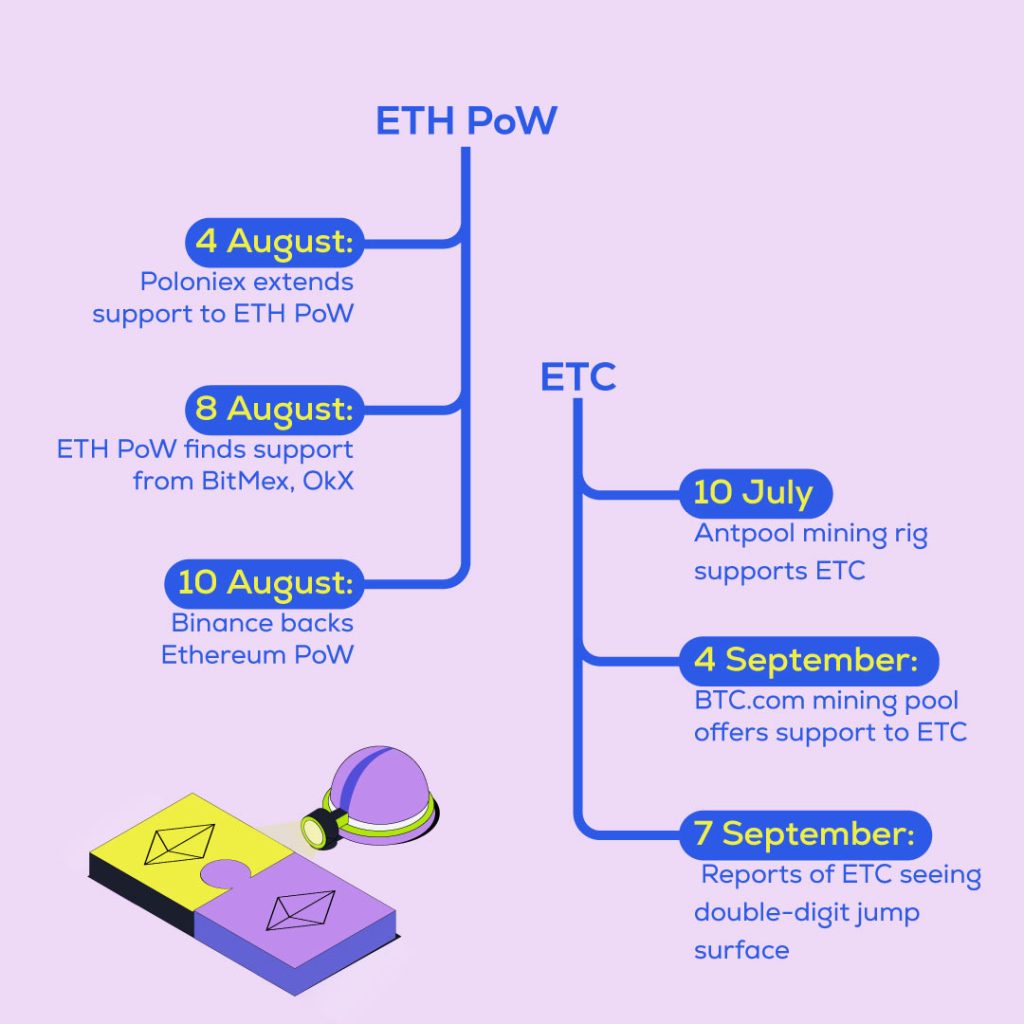 The forked chain has now come into existence, but it has been hit by many challenges.
Volatile support for Ethereum PoW
Given the volatile nature of the digital assets market, industry leaders showed support to both the Merge and the Ethereum miners' hard fork. However, while many big names rushed into supporting the freshly forked, they withdrew just as quickly afterward.
Come August, for instance, crypto exchange Poloniex showed some support for ETHPoW via Twitter. The community release that came with the tweet highlighted Poloniex's historical support for both Ethereum and Ethereum Classic. (More on the Classic version below.) It claimed to continue its support by backing the Ethereum PoW fork and listing forked tokens ETHW and ETHS.
Nevertheless, Poloniex investor Justin Sun then decided to support ETHPoW's rival network, EthereumFair a few days later. Following this, Poloniex explained that the decision was "based on the market situation, [and] consensus of users and the community."
In light of these developments, ETHPoW started moving downhill. From $50 last week to the current battle to make it to $7, ETHPoW has since witnessed a lot of volatility.
Furthermore, ETHPoW showcased many glitches on day one. Users not being able to access the network, apart from facing difficulty in accessing the network's web servers, took to Twitter in droves.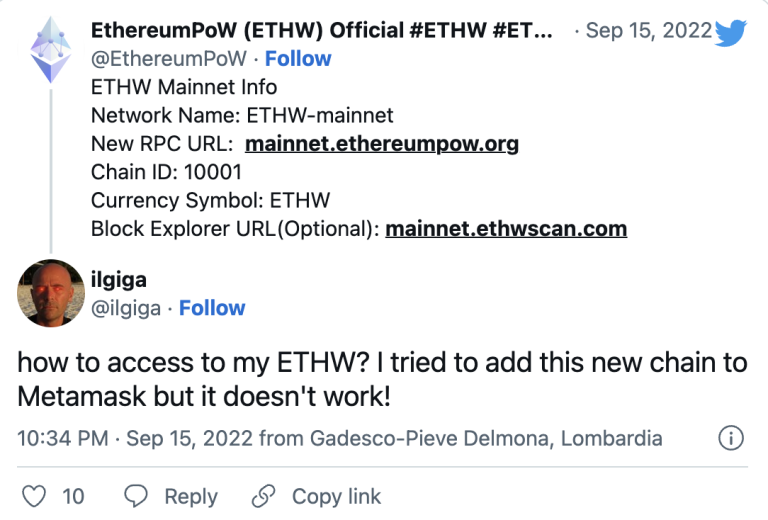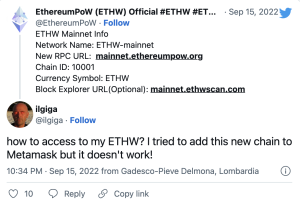 Source: Twitter
Despite all of this, ETHPoW has support from eminent industry players like the crypto perpetual derivatives exchange BitMEX, which launched Tether-margined contracts for ETHW. Other crypto exchanges such as MEXC Global and Gate.io too listed ETHW and ETHS on their platforms in the aftermath.
There are some whose support has been more pragmatic. OKX CEO Jay Hao, for example, said that while the platform is monitoring and planning on further supporting the Merge. They would also list the newly forked Ethereum coins if there was "sufficient demand" for them among traders.
The crypto exchange giant and the biggest supporter of the Merge also took a similar line. Binance emphasized that they are not opposed to evaluating and considering support for the distribution and withdrawal of the newly forked tokens.
It is not yet known whether the PoW hard fork is a moonshot or a pump-and-dump. Only time will tell.
Ethereum Classic: The next best stop for miners?
Ethereum PoW isn't the only option for Ethereum miners. A considerably popular one is to switch to Ethereum Classic (ETC), Ethereum's old PoW crypto.
ETC was originally known as just Ethereum. Its Initial Coin Offerings (ICOs) were used by several developers to launch new tokens. In 2016, one of the most popular ICOs, the DAO, with 11 million ETH from over 18,000 investors, was hacked. The attackers used a smart contract vulnerability to withdraw about a third of its ETH. As a result, the community initiated a hard fork that led to the creation of Ethereum's sibling.
Coming back to the present, with the Merge, several miners have started hopping to Ethereum Classic. Mining pools are also jumping ship. Additionally, earlier this year, the crypto mining rig giant, Antpool invested $10 million into the ETC ecosystem.
All of this movement is in turn attracting even more investors. Following the Antpool news, for instance, ETC's price shot up by 15.50% in just 24 hours. And despite the ongoing bear market, ETC's price change in the past three months has stayed positive.
So, is ETC the next best stop then? Or ETH PoW?
We won't get into that, but Vitalik Buterin has an interesting take on this that may help you decide for yourself.
While speaking at the ETH Seoul developer event in August, Buterin argued that he believes that Ethereum will not "really be significantly harmed by another fork." In his view, supporters of PoW had already shifted to ETC during its launch in 2016. For now, "Pretty much everyone" in the Ethereum ecosystem is "quite united" in their support of the move to PoS, he added.