It seems the crypto world, badly in need of good news, has lots coming its way. Tech giant Google has integrated a countdown clock into its world-leading search engine ahead of the Ethereum merge this week.
Sam Padilla, a Google Cloud developer, was the first to tweet about the development, which signaled Google's support for the much-anticipated switch. The tweet mentions that the idea came from Google's internal Web 3.0 chats and was implemented in less than two weeks, a significant achievement.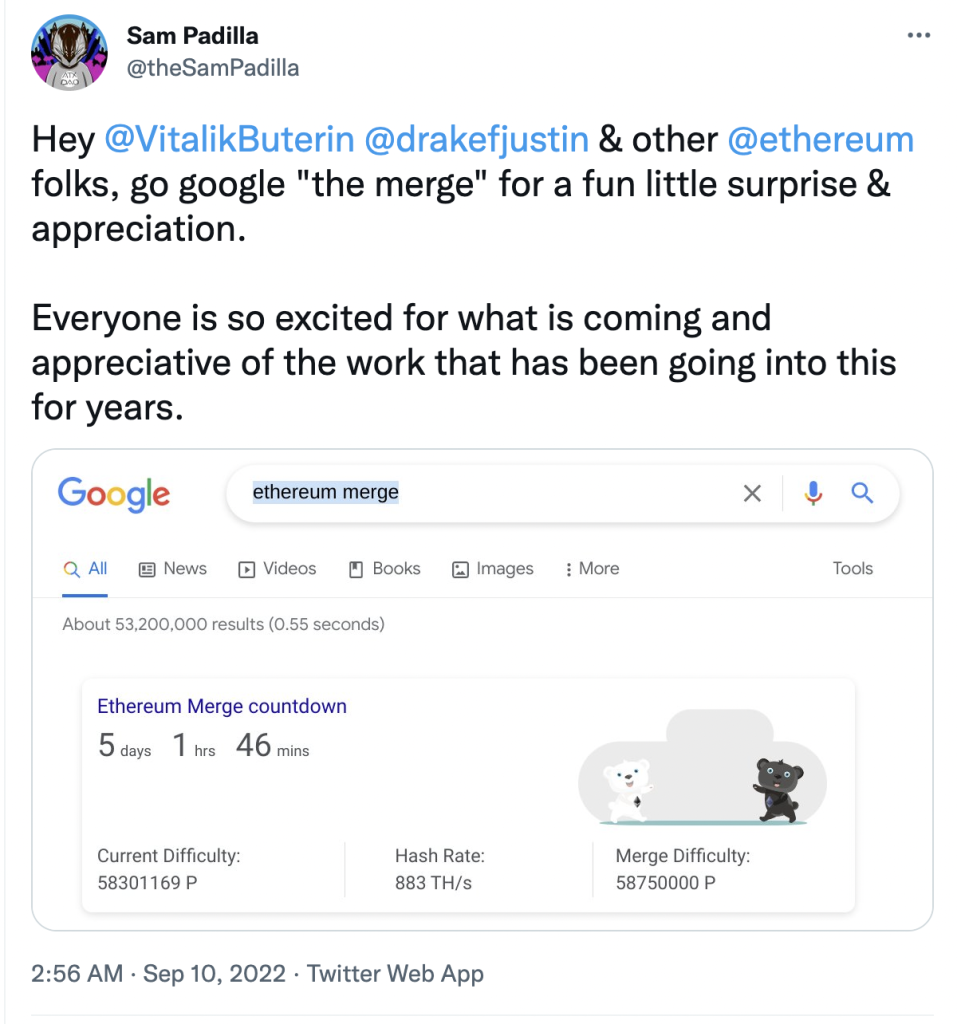 Ethereum's merge—its transition from proof of work (PoW) consensus mechanism to proof of stake (PoS)—is scheduled to happen on 15 September, if all goes to plan, setting the crypto-verse ablaze. And now, the world's biggest search engine has joined the party with the integration of the doodle. In recent years, Google has deployed 'Google Doodle' to celebrate historical events and festivals, and Google's integration of the merge shows how the event has attracted attention beyond the crypto space.
This is how it works. When you type "Ethereum Merge" or "the merge" on the Google search engine, it loads the countdown clock. The clock shows the days and hours to go before the merge along with the current hash rate, difficulty, and merge difficulty. Besides, the page also shows images of two happy bears approaching each other with outstretched arms. The bears will get closer with each passing day. When the merge finally happens, the bears will combine to form a single panda, the unofficial mascot for Ethereum's transition.

While the final merge has no fixed time, the data shown on Google search is pulled in real-time directly from Ethereum's network using some of the nodes hosted by Google, according to Padilla's tweets.