After a bullish start to the week, the crypto market witnessed a bit of a sell-off during yesterday's session. The total market cap of the crypto market went down by close to $50 billion. And Bitcoin is trading below the $23,500 level, down by 2.32% in the last 24 hours.
The trigger for the sell-off is the US economic indicators (the July retail sales numbers are pretty flat), which were disappointing given the forecast of 0.1% growth. Another factor is Nasdaq's performance. The index, which is tracked closely by the crypto community, ended the day in the red zone with a 1.25% decline.
The Fear and Greed Index, which measures investors' sentiments as per the prevailing market conditions, also pulled back yesterday by 11 points, reaching 30/100. The drop indicates a risk-off sentiment.
As per Coinglass data, the total liquidation figure in the last 24 hours stands at $234 million, up by 112%.
Key coins
Bitcoin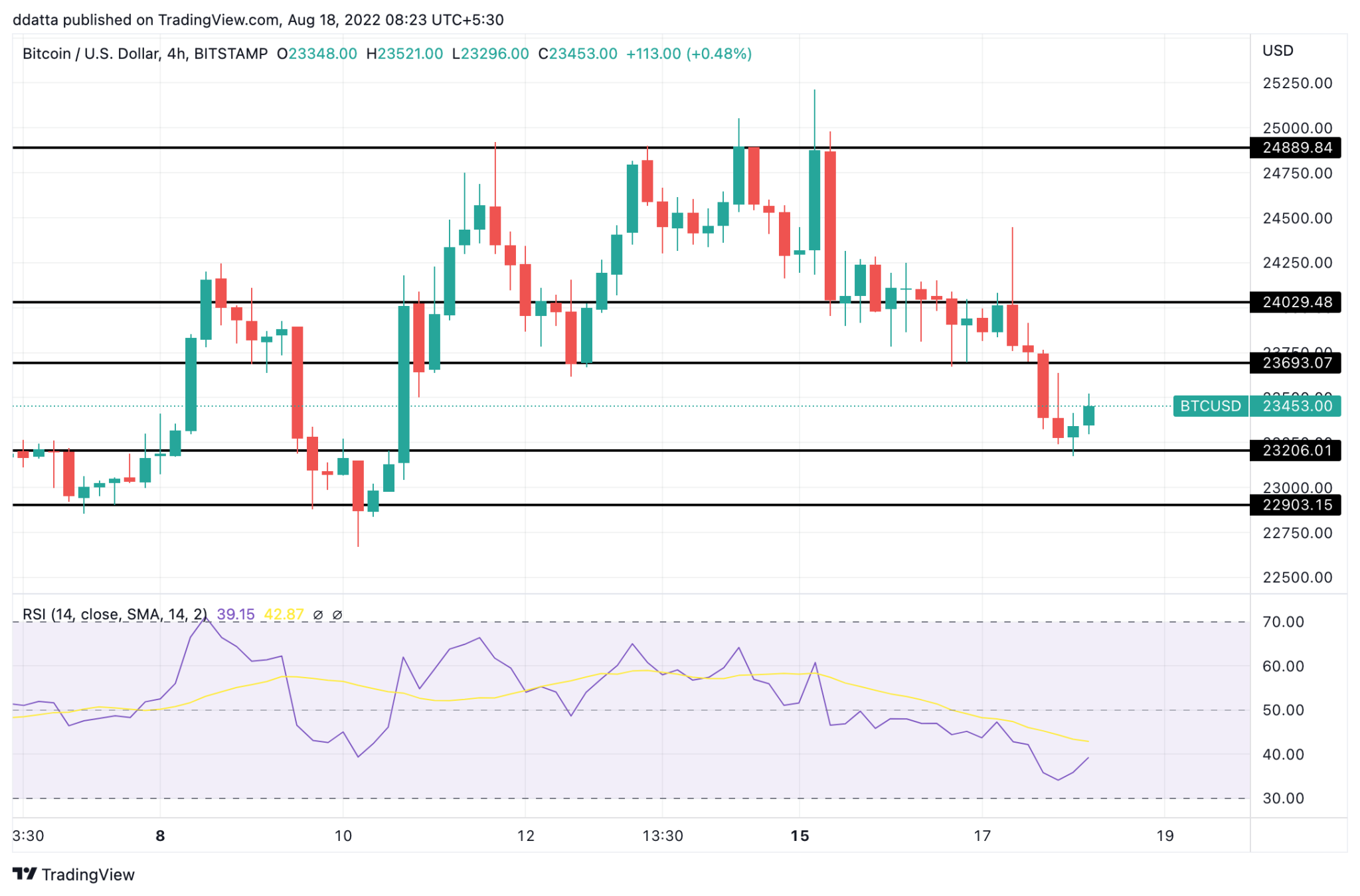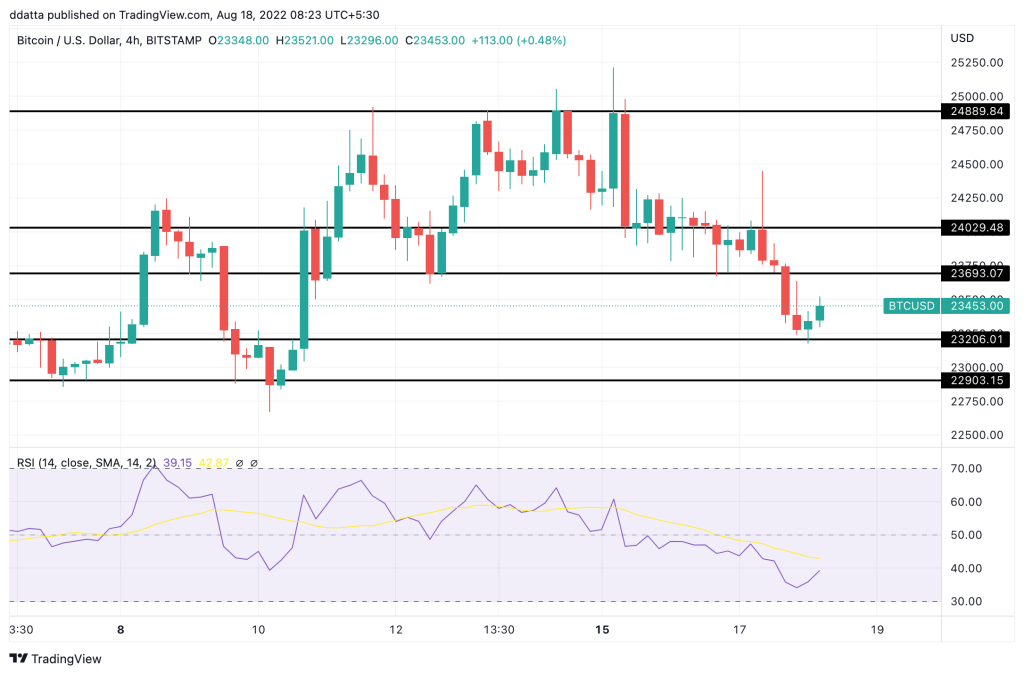 Bitcoin has shown a reversal on the 4-hr chart after testing the support at the $23,200 level. However, it needs to break above $23,700 to continue its upside momentum. The $24,000 level continues to be highly resistive, as it has been multiple times in the past. The Relative Strength Index (RSI) is moving up from the oversold territory. That's a positive sign for the market, but one still needs to be careful with trades. We recommend you Do Your Own Research (DYOR).
Ethereum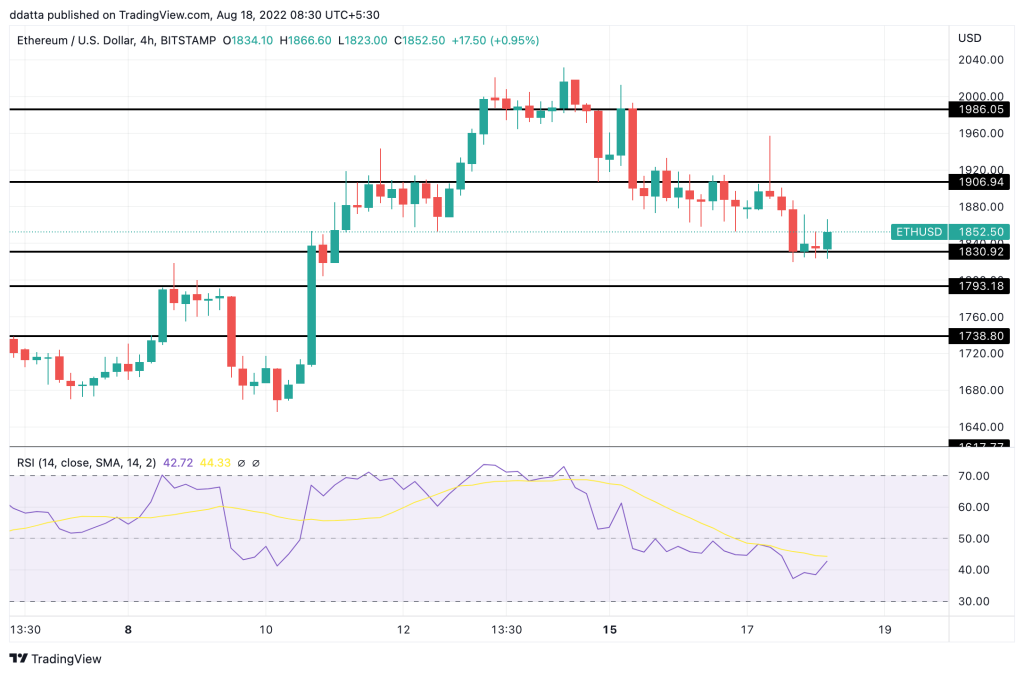 Since Monday, 15 August 2022, Ether (ETH) has corrected by almost 9%. It is currently trading near one of its key support levels, at $1,830. ETH bounced back after testing the support and needs to break above $1,900 to continue moving higher.
Developments around The Merge and heightened trading activity are leading to volatility in ETH prices. Keep a close eye on those support and resistance levels while planning your trades.
The top three gainers in the last 24 hours are QSP-5.98%, ATOM– 5.33%, and CHZ– 2.92%.