The flat crypto week wears on with the broader market entering Friday in a tepid mood, up by 1.12% at the time of writing. The US dollar continued to show strength, with the US dollar index (DXY) hitting 109.97 on 1 September 2022— a new high since September 2002. As a result, most risk assets lost ground, including the benchmark S&P 500 index and the big crypto guns.
Currently, Bitcoin (BTC) is trading at a discount of 0.94%, whereas the usually upbeat Ether (ETH) has managed to stay in the green with a 0.20% uptick day-on-day. Unless the dollar index takes a breather, we cannot expect the market to ditch its current (range-bound) stance.
Popular crypto trader Kaleo tweeted that he expects DXY to rise up to 115.
DXY with another strong day. Honestly see zero signs of it wanting to slow down until ~114/115, which at this rate should take at least a couple of months. pic.twitter.com/3JHhI46ViD

— K A L E O (@CryptoKaleo) September 1, 2022
However, dark clouds loom on the trading horizon as a further hike in interest rate is expected in September following August's inflation data release. Although the upcoming Ethereum merge (supposed to happen on 15 September) can act as a positive driver, bugs and deterrents could play spoilsport.
September might just be a volatile month for high-beta assets such as crypto and equities. We recommend a cautionary stance and a well-drafted Do-Your-Own-Research (DYOR) plan.
Significant developments
Here are some of the noteworthy developments early on Friday across the crypto market:
The crypto market cap continued to dip, day-on-day, down by 0.24% at release. Currently, the market cap is holding steady at $980.54 billion.
Bitcoin's market dominance drops to 39.08%, while Ethereum holds strong at 19.63%.
Onshore crypto rupee index CRE8 is down by 2.07% in the past 24 hours and is trading at ₹2,751.79.
Key coins
Among top coins by market cap, Cardano (ADA) is the only player to trade at a premium of 1.07%. Dogecoin (DOGE) and Ripple (XRP) gained 0.41% and 0.87%, respectively.
If you zoom out a bit, Terra 2.0 (LUNA2) comes across as the unexpected mover of the day, up by 9.57% at the time of writing. Hot on the heels of LUNA2 are enterprise solution network EOS (EOS) and interoperability-first project Cosmos (ATOM), which gained 9.08% and 5.78%, respectively.
Meanwhile, AirSwap (AST) is the top loser this morning, down by over 6% in the past 24 hours.
Crypto Fear and Greed Index (CFGI)
The crypto fear and green index (CFGI) is currently trading at 25, up five points since yesterday. However, the indicator continues to linger at the "Extreme Fear" levels, signaling that most aggressive buyers remain skeptical about taking trading decisions.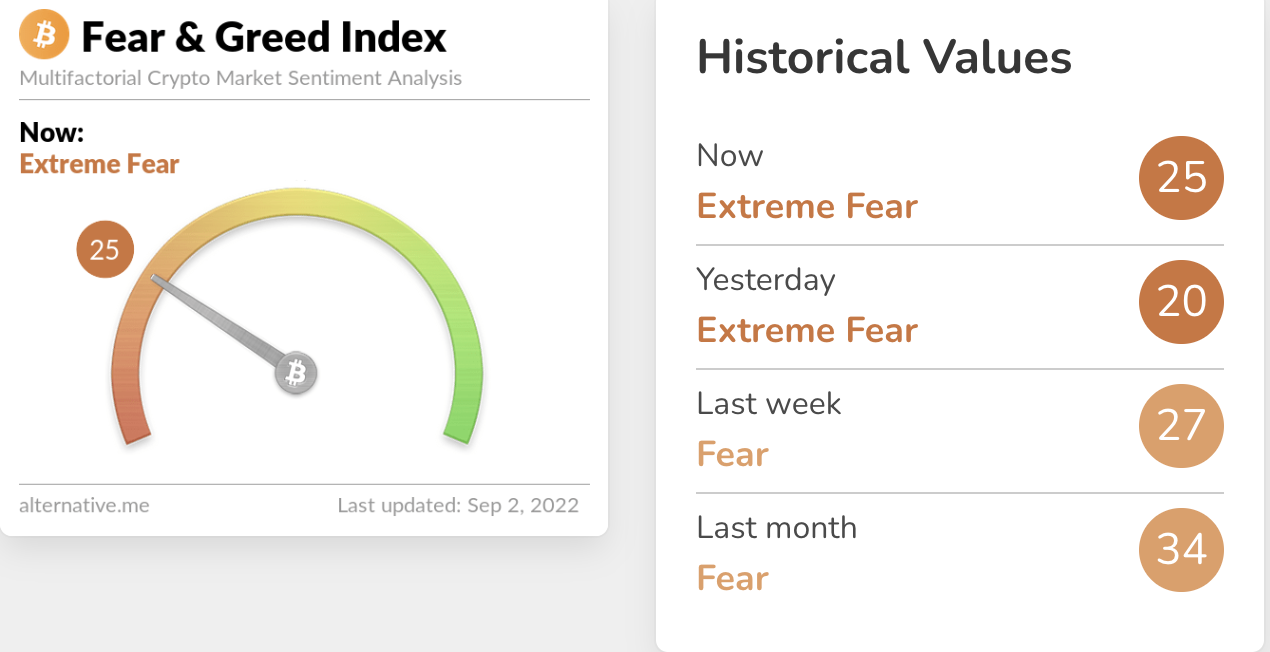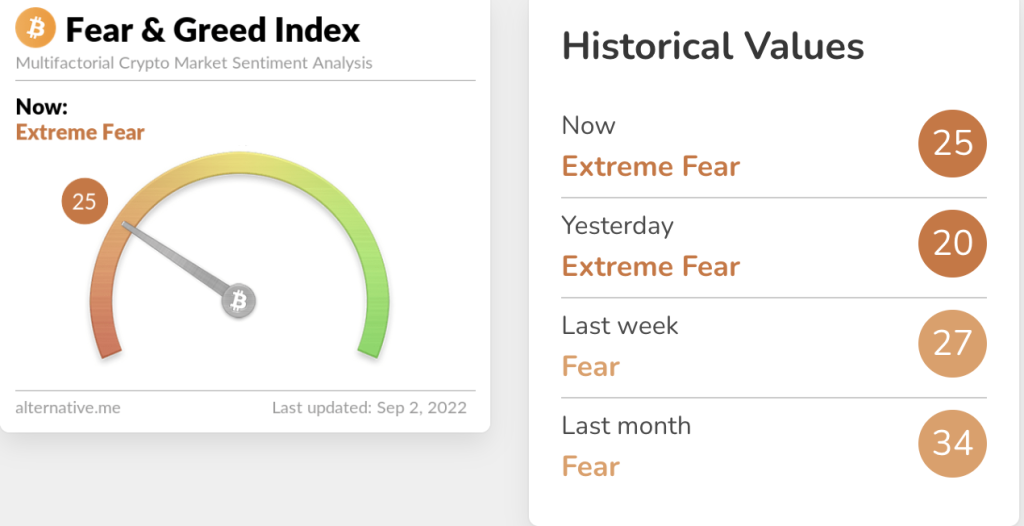 The index needs to stabilize close to the level of 40 before we see positivity at the respective crypto trading counters. Do note that the climbing dollar index, weakening rupee, a flattish CRE8, and a fearful CFGI level are directly correlated. It would require a massive sentimental driver for crypto to break through into a "bullish-again" territory. Until then, waiting and watching might be a good approach.