Last week blew hot and cold on the crypto market.
Bitcoin (BTC) tried its best to cling to the psychological support of $20,000, but, at $19,848 this Monday morning, it has only managed to hold above the $19,511 level. (The $19,511 support level is the record high BTC made in December 2017.)
Ethereum, on the other hand, painted a different picture. The second largest crypto, by market cap, managed to gain more than 9%, week-on-week, validating Merge-related optimism all over again.
Zooming out on the global economic scenario, we see the European equity market tumble. The Euro kept losing strength, worsening Europe's energy crisis, growing inflation, and monetary tightening-related concerns, and that could impact the crypto market, too.
Significant developments
Despite a bittersweet week and a jaded weekend, here are the major highlights that surfaced today, 5 September 2022.
The crypto market is currently holding firm at $981.71 billion, up by 0.60% since yesterday.
Bitcoin's market dominance keeps dropping and is currently at 38.71%.
Ethereum's market dominance has reached 19.59% ahead of the Merge.
The first onshore crypto rupee index (CRE8) gained more than 1% over the past 24 hours and is currently trading at ₹2,753.07.
Key coins
Cardano (ADA) is the only crypto to end the week with a double-digit uptick. Buoyed by the "hard date" announcement regarding its upcoming upgrade, ADA registered a 15.13% upmove over the past seven days. For now, it is looking robust—up by 2.19% in the past 24 hours.
Among other things, Polkadot (DOT) is in the green on this somber Monday morning, up by 2.50%, day-on-day. As far as top gainers are concerned, Request (REQ)—a smart contract-heavy project—is up by 7.94%, spurred by a 600% rise in daily trading volumes. dApp-specific Harmony (ONE) comes a close second, having gained close to 5.50% at the time of writing.
Yearn.finance (YFI) is showing the most pronounced dip on the daily charts, currently down by 3.76%.
Crypto Fear and Greed Index (CFGI)
The Crypto Fear and Greed Index hasn't changed much since Friday, 2 September 2022. Geopolitical headwinds have made the space a little more fearful, though, with the index dropping to 23 today, as compared to the Friday value of 25.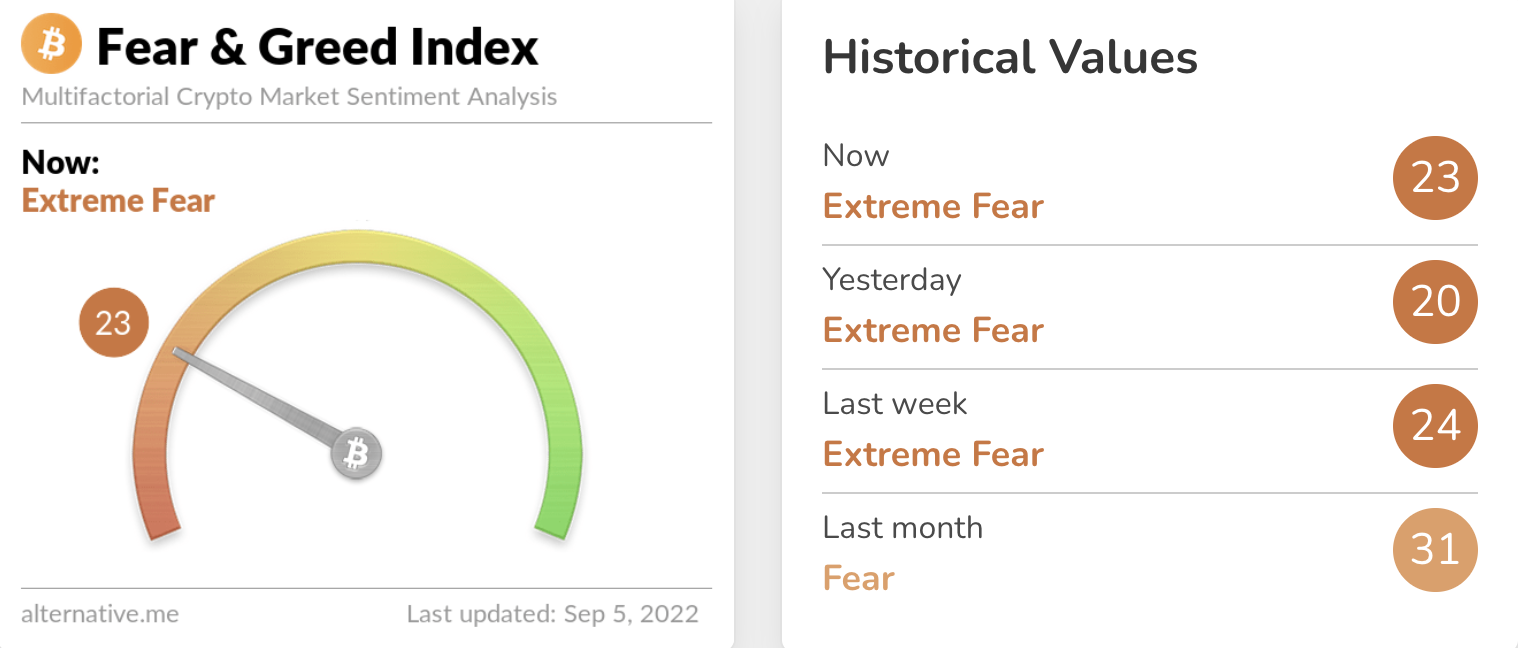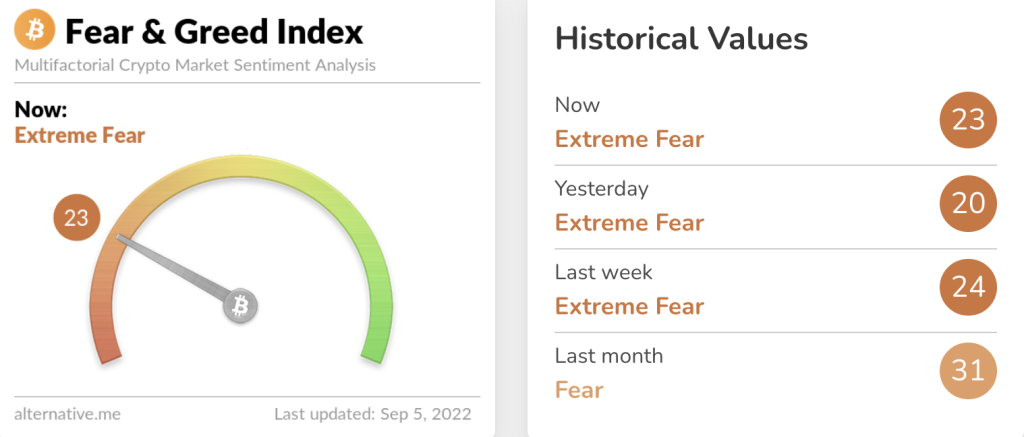 The current level reflects a cautionary stance. Buyers might consider making moves only if the CFGI manages to move past 35 and hold steady there. However, the dollar index (DXY)—currently at 110.05—keeps moving up and is known to have a negative correlation with the crypto space.
For now, it is better to watch the market from the sidelines. We can expect the next few days to be quite eventful, with the August CPI data waiting to be released, followed by the Ethereum Merge and Cardano's much-anticipated upgrade.