See some colorful little lines snaking their way through the Non-Fungible Token (NFT) universe? Probably just a Doodle. With 10,000 pieces, the Doodles NFT project is essentially a collection of hand-drawn images that portray playful characters. The collection is slowly but surely garnering popularity among art collectors and enthusiasts alike. Whether you are on the lookout for some inspiration or are just keen on diversifying your investments, here's an option that may interest you.
Who created Doodles NFTs, and what are they exactly?
The Doodles NFT collection was launched in 2021 by Jordan Castro, Scott Martin, and Evan Keast—popularly called Poopie, Burnt Toast, and Tulip, respectively. Two of these founders had been experimenting in the space for a while. Both Poopie and Tulip had worked with Dapper Labs and on CryptoKitties. The art featured in this collection, though, is by Burnt Toast.
The collection they put together is community-backed. That means, following in the footsteps of some other famed NFT projects like Bored Apes and CryptoPunks, each NFT is formed by mixing and matching 100+ rare traits. These traits are what contribute to the NFTs' rarity score, which signifies its uniqueness. Uniqueness is key because it determines their popularity and price across secondary markets. The collection also doubles up as an Ethereum-based NFT collection.
In terms of artwork, the Doodles by Burnt Toast comprise hand-drawn pictures of characters in funky clothing. They often sport bright jewelry, sunglasses, or even animal costumes. The collection also includes several non-human entities like apes, cats, and pickles. The NFTs belong to the Profile Picture (PFP) category. They are usually very colorful and made of pastel shades.
The first NFT was minted on 17 October 2021. When it started out, the mint price was set at .123 ETH, or $300, approximately. The Doodles NFT price has varied a lot since then.
Reasons to put the Doodles NFTs on your watchlist
1. Decision-making power
The Doodles NFT project is essentially a Decentralized Autonomous Organization (DAO) where owning a Doodle gives you the right to vote in the ecosystem. That means those who can these NFTs get to make decisions about the Doodle ecosystem, including its treasury, Doodle Bank. So, if you invest in a Doodles NFT, you stand to gain some decision-making power in relation to how live events, project funding, and team scaling happens in the future.
2. Early access to Sophomore
The Doodle team has been unveiling Sophomore NFTs since June 2022. And holding on to a Doodles NFT at this point in time could open early access doors for you. If you want an extra dose of motivation, please note that the team even secured fresh funding worth $54 million, at a valuation of $704 million, as part of a "Series A" fundraising gig. This capital boost is also likely to be dedicated to Sophomore.
3. Dropping NFT sales volume
The sales volume is falling as of 21 November 2022, and that might help you get one at a far more affordable price than usual. DappRadar's data, for example, confirms the drop in sales volume. The floor price of a Doodles NFT, according to DappRadar is $7.64K—almost 20% lower than last month.
Source: DappRadar
Also, there are currently 491 traders in play, which is a 21% increase for the same period.
4. The utility
According to the community backing this NFT collection, the intent of every Doodles NFT is to entertain. But there's a lot more to it as well. Here's how those behind Doodles are thinking about its utility:
our goal is to make a product that's sticky.

– primary sales revenue % into DAO Treasury
– secondary sales revenue % into DAO Treasury
– 1 @doodledaonfts = 1 vote on how to put that capital to work
– what will we create together this year and the years to come? #doodledao pic.twitter.com/dNfb0gFZFj

— doodles (@doodles) August 23, 2021
The community has also been organizing live events and selling physical merchandise to complement the sale of digital art. Plus, as it is a DAO, every sale contributes to the DAO treasury in some way or the other.
5. The perks of belonging
Owning a Doodles NFT offers access to its forum and even Discord channel—both allowing an additional source of information for participants. It also opens up exclusive access to other Doodle HODLers via events and parties.
How much does a Doodles NFT cost? And how it got here
The floor price and average price of a Doodles NFT stand at $7.64k and $9.51k, respectively. Over the past seven days, the highest Doodles NFT price was $14.95K, which is equivalent to 12 ETH.
The price has come a long way from the at-launch floor price, which was somewhere between 1 and 5 ETH. The phenomenal growth has had a lot to do with the offshoot project called Space Doodles. By the end of 2021, Doodles NFTs experienced multiple price boosts after the launch of the offshoot project. HODLers of the older Doodles NFTs exchanged them for the new space-themed pieces of art.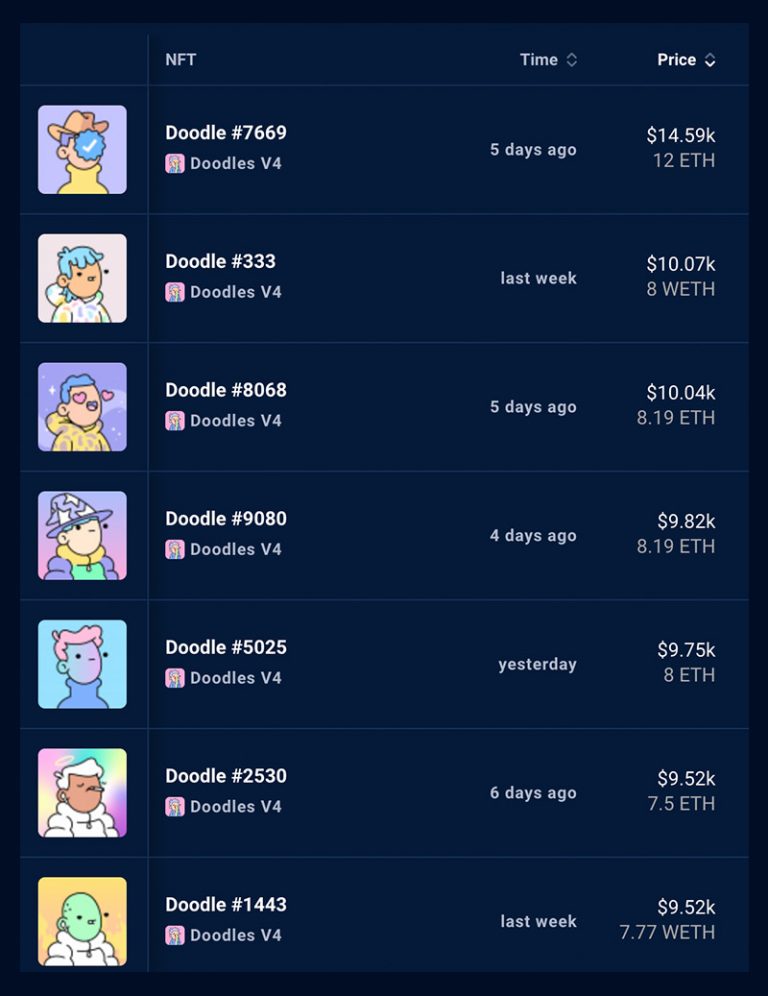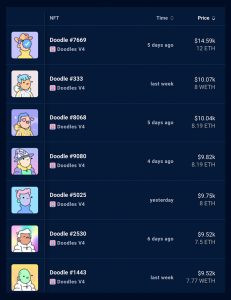 Source: DappRadar
The priciest NFT from this collection was sold on 7 January 2022. At the time, the buyer paid approximately $1.1 million or 296.69 ETH for Doodle #6914, as the NFT concerned was named.
How to buy Doodles NFTs
Having understood this project better, it is essential to note that the primary sale of Doodles NFTs happened on the official website. And now all the first-time purchases are out of the way, secondary sales can be initiated on marketplaces like Nifty Gateway, LooksRare, and OpenSea.
If you want to buy one of the NFTs from this collection, follow the steps below:
First things first, pick the right wallet—one that supports the ETH move and the NFT. If you intend to buy a Doodle from the OpenSea marketplace, Metamask may be a good option.
Next, remember the Doodles are on Ethereum. So get your hands on some ETH. Make sure that the ETH you acquire is transferred to your hot or cold wallet.
Now connect your Metamask wallet to OpenSea, check prices, and make your purchase. If there is a Buy Now tag on the NFT of your choice, it indicates that it is up for sale. Along with the price, you will need to pay the network gas fee while making such a purchase. If the tag is not to be seen, the other option is to place a bid for the NFT. For this, as with all bidding, you will be asked to enter the price you are willing to pay for the item. If the seller accepts your bid, he/she needs to pay the transaction fee.
Finally, once you have purchased the NFT, move it to a cold wallet for better safekeeping.
Does the Doodles project have a future?
Fans of the Doodles NFTs believe that this is a project for the future. And with offshoot NFT collections like Space Doodles, the project sure looks all poised for a pretty bright future. The average price of a Doodles NFT also hasn't hit the ground so far.
However, for the Doodles NFT project to make it, HODLers may have to put up with an extended spell of dry NFT sales. Once Doodles makes it past the bearish vibes, long-term holders might look to reap the rewards.