The early bird gets the worm, and early adopters of Aptos got free tokens a.k.a. airdrops. Following its much-awaited launch, the Layer-1 blockchain company rewarded its early participants with free APT tokens.
The Aptos Foundation shared the airdrop news on 18 October via a series of tweets.
The foundation airdropped the tokens to users who completed an application for an Aptos Incentivized Testnet and to users who minted an APTOS: ZERO testnet NFT. As many as 110,235 eligible participants received 20 million APT tokens, according to the company. The airdropped tokens constitute 2% of APT's initial total supply of 1 billion.
The airdrop was estimated to cost $200–$260 million based on market prices at the time.
Aptos airdrop: The context
Aptos co-founders Mo Shaikh and Avery Ching, both former Meta employees, launched the blockchain on 18 October. The airdrop was launched a day later as part of a marketing strategy and was meant to show the community appreciation for its support.
Additionally, Aptos Foundation's first airdrop came at a time when the project had been under significant scrutiny on Twitter. Several users, on social media platforms, criticized the coin for unclear tokenomics, inconsistent communications, and significantly lower transaction throughput than promised. (See the tweet below by popular crypto podcaster Cobie, for example.)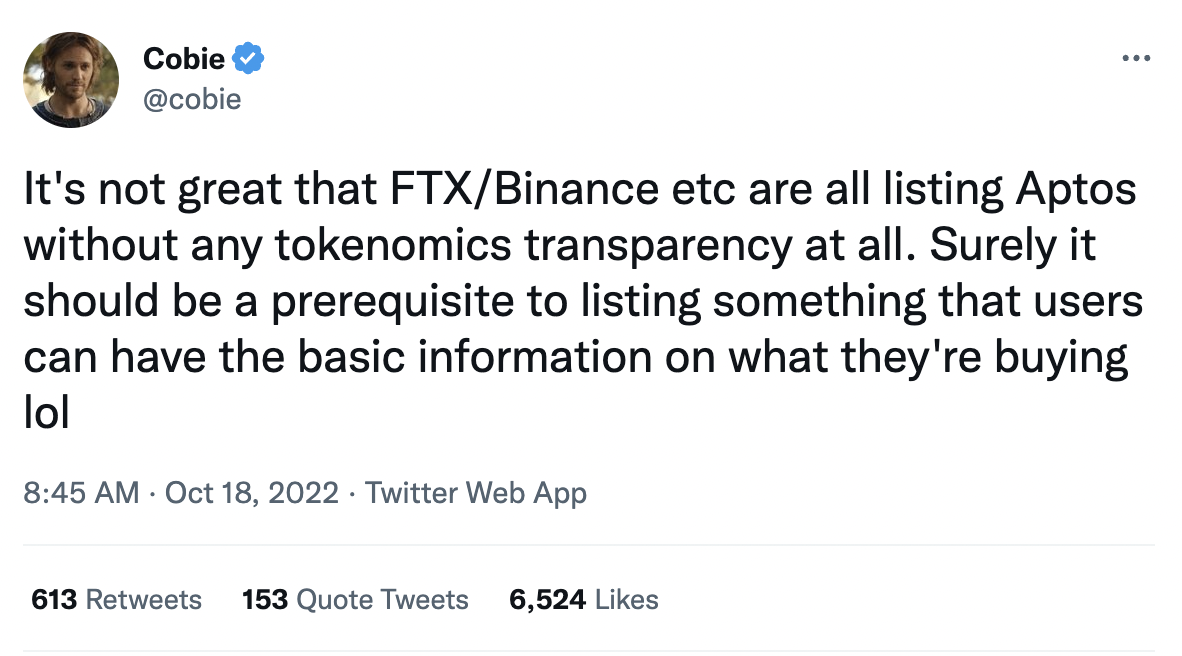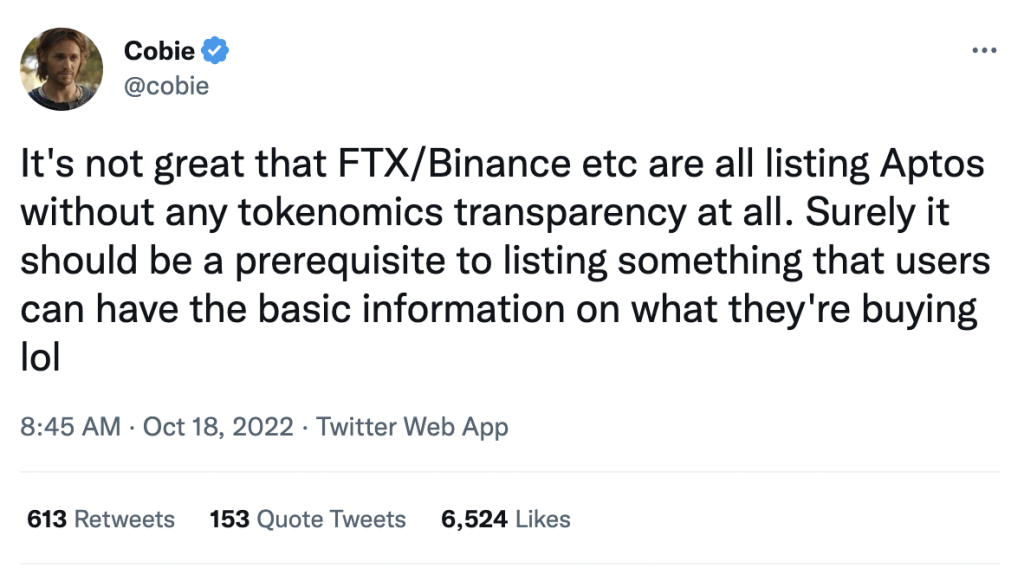 APT off to a sluggish start despite airdrop
Despite its much-anticipated arrival, token APT had a slow start on its first day of trading. Significant disparities have been noted between the numbers reported by different aggregators, but they all seem to be on the lower side. CoinGecko reveals that, at publishing time, APT's price has dropped to $$7.54. The 24-hour trading volume is at $303,995,891. Binance data, on the other hand, suggests that APT's value briefly spiked to as high as $59.39 before crashing to under $10.
After the release of the airdrop, the foundation was called out by WU blockchain, Asian crypto news provider, for airdropping APT tokens without an anti-Sybil attack system. The absence of this system, which is meant to help preventing a specific kind of attack, led to "some people getting a lot of tokens." That led to selling pressure and the crash.