Dubai just took a step closer toward Bitcoin adoption. Seed Group, a company affiliated with the Royal Family of Dubai, has signed a partnership with Bitcoin firm CoinCorner to facilitate Bitcoin payments across the UAE and the Middle East.
Dubai had adopted the Virtual Asset Law earlier in 2022, taking the lead in establishing the city and the larger United Arab Emirates as global crypto hubs. Global crypto exchanges such as FTX and Binance have received licenses to operate in the city. Crypto exchange Bybit is headquartered in Dubai, while Crypto.com has set up a regional office. Small wonder the UAE is one of the top four nations in the world in Bitcoin and cryptocurrency usage, according to a recent Forex survey.
The news about the partnership was announced via Twitter by CoinCorner's chief executive Danny Scott on 21 September.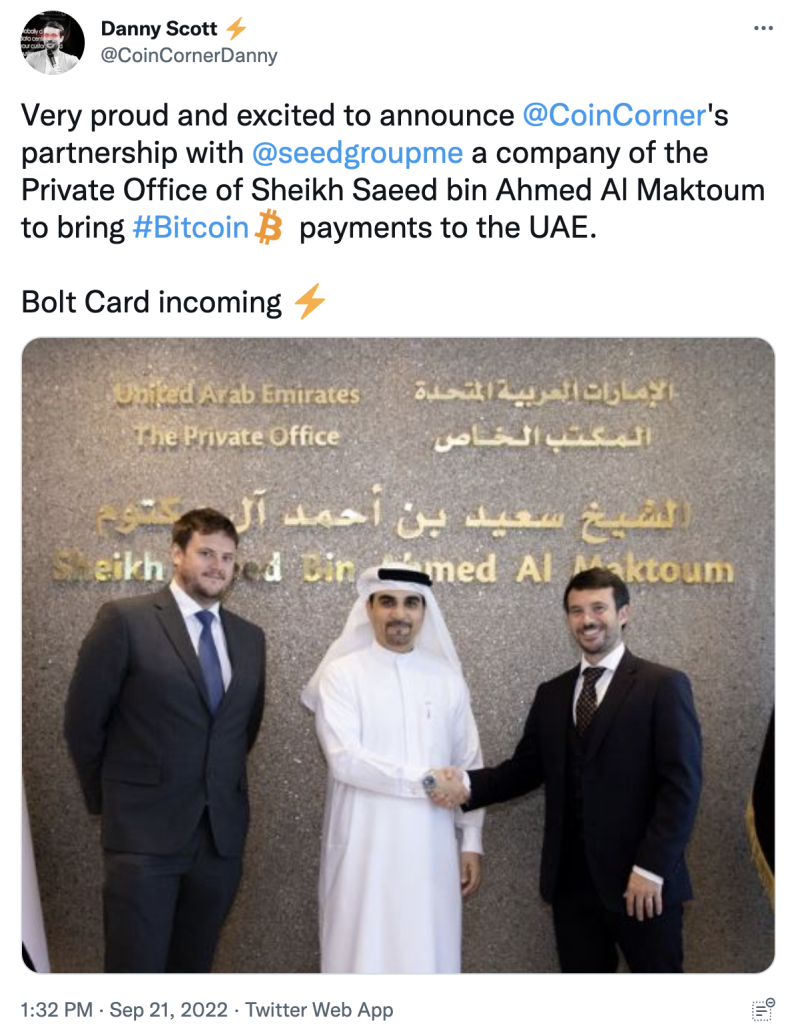 CoinCorner is a cryptocurrency exchange and web wallet provider wherein people can buy and sell Bitcoin. The exchange offers only four cryptocurrencies—Bitcoin, Ethereum, Ripple, and Litecoin.
A win-win deal for CoinCorner and Dubai
CoinCorner will develop a bitcoin trading platform for businesses in the country to expand the use of Bitcoin across the UAE. Besides, CoinCorner will get access to one of the fastest-growing economies in the world. It will further open up the Bitcoin trading platform to other potential crypto-bullish countries in the Middle East, Africa, and Asia regions.
While CoinCorner handles the trading platform aspect of the partnership, Seed Group will help the company expand its operations in the Emirates and the Middle East. Furthermore, Seed Group's affiliation with Dubai's ruling family will give CoinCorner access to top decision-makers in the public and private sectors.