Crypto prices stabilized after last week's market turmoil triggered by FTX's bankruptcy filing. The news of Binance launching a crypto recovery fund gave a fillip to the market. The industry fund aims to help crypto projects with liquidity issues. Ripple (XRP) led the way, rising by 10.8%. The session also witnessed an upward trend among the top cryptos by market cap, including Bitcoin (BTC), Ethereum (ETH), Binance coin (BNB), Dogecoin (DOGE), Polygon (MATIC), and Cardano (ADA).
The total crypto market cap increased by $10.5 billion to $793.0 billion on 14 November. At publishing time, the global crypto market cap is $842.58 billion, a 4.44% increase over the previous day, according to CoinMarketCap. Despite the recovery, the crypto market continued to decouple from the NASDAQ Composite Index, which ended the day with a 1.12% loss.
The broader market is still not out of the woods as contagion fears loom, and would need more positive triggers to support a sustained recovery from last week's losses.
Key coins
During yesterday's session, Bitcoin (BTC) rose by 1.72% and ended the day at $16,626. It is noteworthy that BTC recorded its second increase in nine sessions. At the time of writing, BTC is up by 4.38% in the last 24 hours, trading at $16,754.61.
Ethereum (ETH), the world's second-largest crypto by market cap, also traded in the green during yesterday's session, registering a relatively modest gain of 1.8% to reach $1,240.72. Ethereum is up 6.29% in the last 24 hours to trade at $1,258.33, according to CoinMarketCap.
Crypto Fear and Greed Index
The Crypto Fear and Greed Index, an indicator of market sentiment, is at 22/100 level, down 2% from yesterday's 24/100. The index's reversal from 13 November is despite the positive market turnaround. The return to the 22/100 level reflects investor uncertainty over the impact of the FTX collapse on the broader crypto market. It may be recalled that the index had tumbled below 10/100 in May 2022 following the collapse of Terra.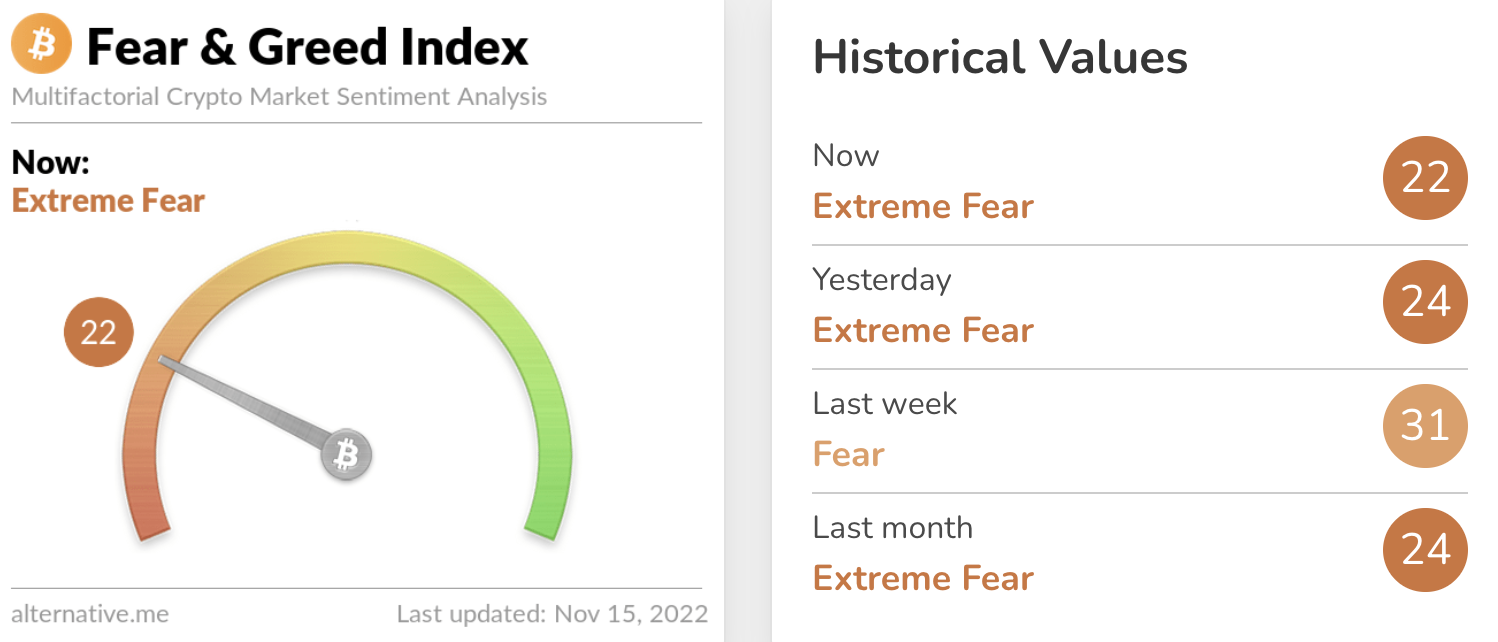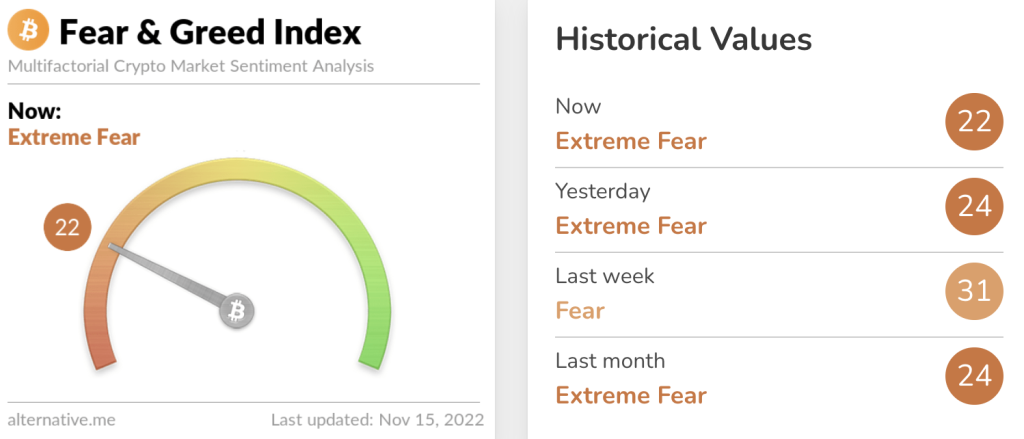 Top gainers and losers
Here are the top gainers at publishing time, according to data from CoinSwitch.
Swipe (SXP): 23.01%
Solana (SOL): 13.06%
Metal (MTL): 12.79%
QuarkChain (QKC): 12.64%
Ripple (XRP): 11.77%
Among the losers are:
Tron (TRX): -0.32%
DFI.money (YFII): -0.26%