The crypto market had a mixed session yesterday, extending its bearish streak.
Cardano (ADA) and Solana (SOL) led the way down, with losses of 2.00% and 2.05%, respectively. However, Dogecoin (DOGE) bucked the trend with a 0.98% rise. Among popular coins by market cap, Binance Coin (BNB) lost 0.22%, while Ethereum (ETH) and Ripple (XRP) saw losses of 0.73% and 1.79%, respectively. XRP's price drop seems to reflect investor concerns about the SEC vs. Ripple lawsuit.
Bitcoin (BTC), the largest crypto by market cap, is also trending in the red, mirroring the larger crypto market sentiments. BTC recorded a 0.34% loss, following a 1.63% loss in the previous session. BTC price ended the day at $19,063, falling shy of the $20,000 level for the fourth consecutive day.
Thursday's US Consumer Price Index (CPI) report is likely to have a bearing on the Fed's rate hike policy and would influence the crypto market as well. Traditional market indicators, like the tech-heavy NASDAQ-100, fell by 1.10%. The NASDAQ is an index closely tracked by crypto traders to help them make sound trading decisions.
Meanwhile, the weakness in the broader crypto market is taking a toll on CRE8, a rupee-denominated index that indicates Indian market conditions. The index is down by 1.14% in the last 24 hours and is trading at ₹2,642.51.
The Fear and Greed Index
Despite a shift from a bearish market session on Monday to a mixed session yesterday, the Fear and Greed Index, an indicator of market sentiment, seems to signal something else. The index fell from 24/100 to 20/100, sliding deeper into the Extreme Fear zone. The index's major constituent BTC's loss in seven consecutive sessions seems to have dragged the index lower. It is important for the index not to scoop below the level of 20.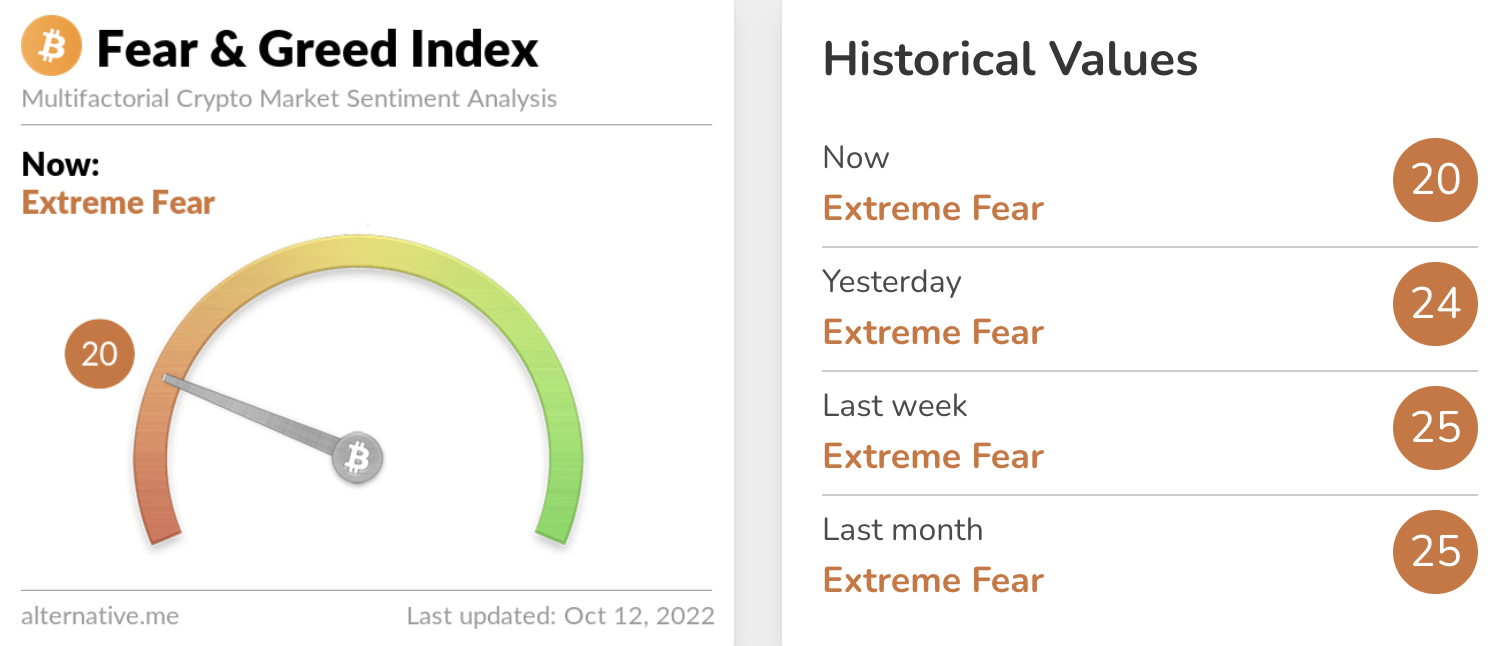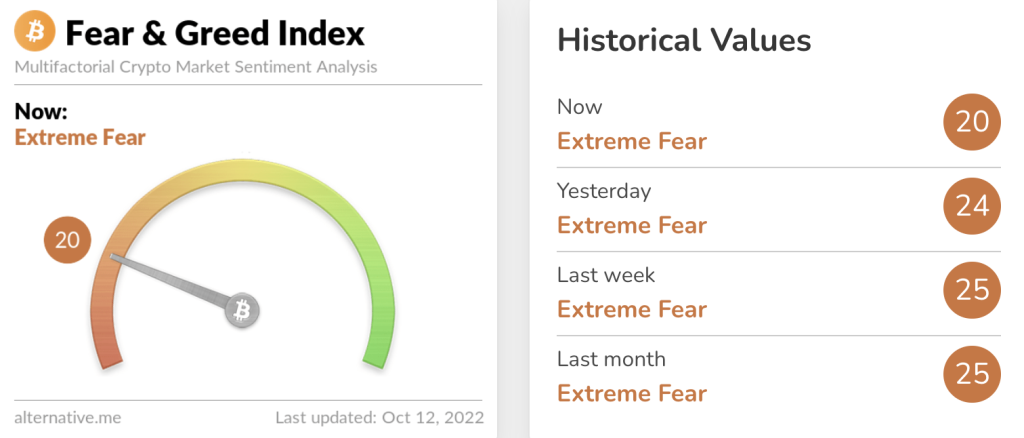 Top gainers from CoinSwitch's live data:
Terra 2.0 (LUNA2): 7.92%
DFI.money (YFII): 3.53%
Chiliz (CHZ): 3.50%
Dogecoin (DOGE): 3.37%
Ethereum Name (ENS): 1.81%
Top losers from CoinSwitch's live data:
ApeCoin (APE): -7.33%
Uniswap (UNI): -6.07%
Stellar (XLM): -5.80%
iExec RLC (RLC): -3.41%
Cosmos (ATOM): -3.30%