As Indian investors head toward the long Diwali weekend, the broader crypto market seems to have failed to recover from last weekend's losses. The total crypto market cap took quite a hit this week, after starting off at $916 billion on 17 October. The number is now down to $870.3 billion, expanding October losses to $38.7 billion.
On Thursday, though, the market had a mixed session, with most top cryptos by market cap taking a beating.
Cardano (ADA) and Solana (SOL) led the way down, falling by 2.86% and 2.90%, respectively. ADA ended the day at $0.34, and SOL at $28.24, according to data from CoinMarketCap.
The world's largest crypto, Bitcoin (BTC), fell through a major support level for the first time in five sessions. It lost 0.39% gains. However, BTC recovered from the mild losses soon enough to end the day at $19,022.
CRE8, the rupee-denominated index which consists of many of these top coins, is trading in the red at ₹2,543.31. The drop has not been drastic so far (just 1.43%).
With 1.25% gains to its name, memecoin Dogecoin (DOGE) is one of the few top coins to have bucked the bearish trend.
In traditional markets, investors seem to be staying cautious as the Federal Reserve's next monetary policy meeting is less than two weeks away and steep interest rate hikes are expected. The tech-heavy Nasdaq 100 fell by 0.61%. The upbeat corporate earnings results that came to light finally broke Nasdaq's fall.
Crypto Fear and Greed Index
The Crypto Fear and Greed Index, which measures investor sentiments, is at 23/100 for the second session in a row. While still in extreme fear territory, the index has remained steady.
The index's steadiness, despite the fact that many other coins took a hit, can be attributed to the recovery made by BTC, which usually has a significant impact on index outcome.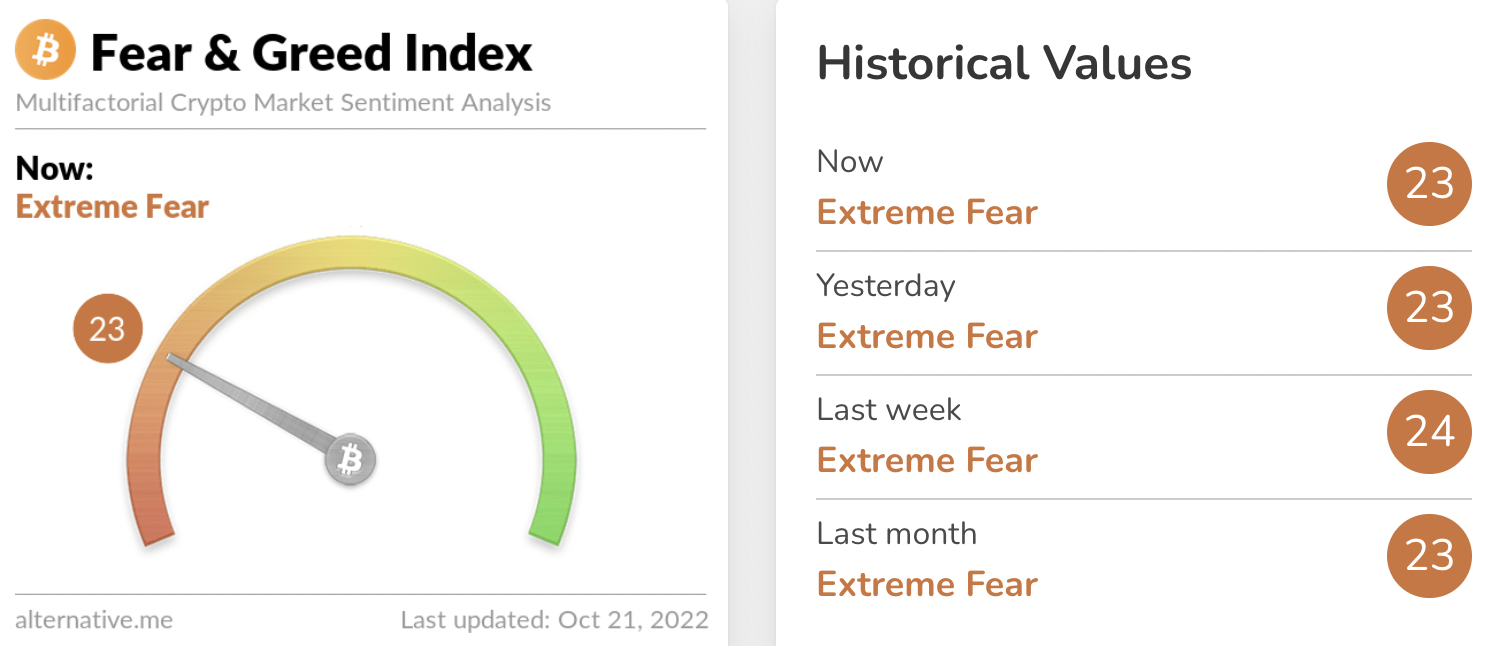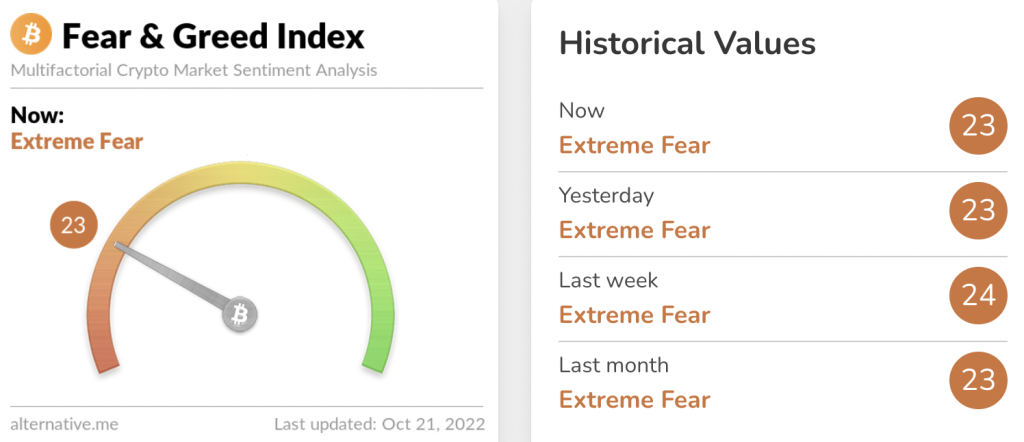 The big gainers and losers
DFI.money (+7.19%), Livepeer (+4.89%), EOS (+2.81%), Chiliz (+2.28%), and Ambire AdEx (+1.96%) have the highest gains since yesterday, according to CoinSwitch data.
Coins that did not do so well are: Ethereum Name (-7.40%), Sushi (-6.33%), Axie Infinity (-5.70%), district0x (-4.32%), and Nano (-4.29%).