Bringing its three-day winning streak to a close, the crypto market saw a bearish start this week. The total crypto market cap was at $888.3 billion at the end of yesterday's session, growing October's deficit to $16.7 billion.
Many top cryptos by market cap registered losses, too. According to financial news portal FX Empire, Solana (SOL) and Ripple (XRP) led the way down among them, shedding 3.32% and 3.32% of their prices, respectively, as of 25 October 2022. SOL struggled to reclaim the key support in the $30 region. XRP traded in red with its Director of Engineering Nik Bougalis leaving the company.
However, Bitcoin (BTC) avoided the first resistance level of $19,000 for the third time consecutively despite falling short of $20,000 for the 17th day in a row. Bitcoin mining difficulty rose by 3.44% higher, reaching an all-time high.
Crypto Fear and Greed Index
The Crypto Fear and Greed Index, which is a measure of crypto investor sentiments, took a two-point fall this morning. At 20/100, it is currently indicating extreme fear.
The index falling deeper into the extreme fear zone could be a response to disappointing economic indicators from the EU and the US, fears of a recession, and political updates from China. The index's 2% decline also coincides with BTC's 1.25% loss.
The index needs to continue avoiding the sub 20/100 region in order to support a shift in sentiment. If it fails to do so, BTC could drop below the $18,000 mark.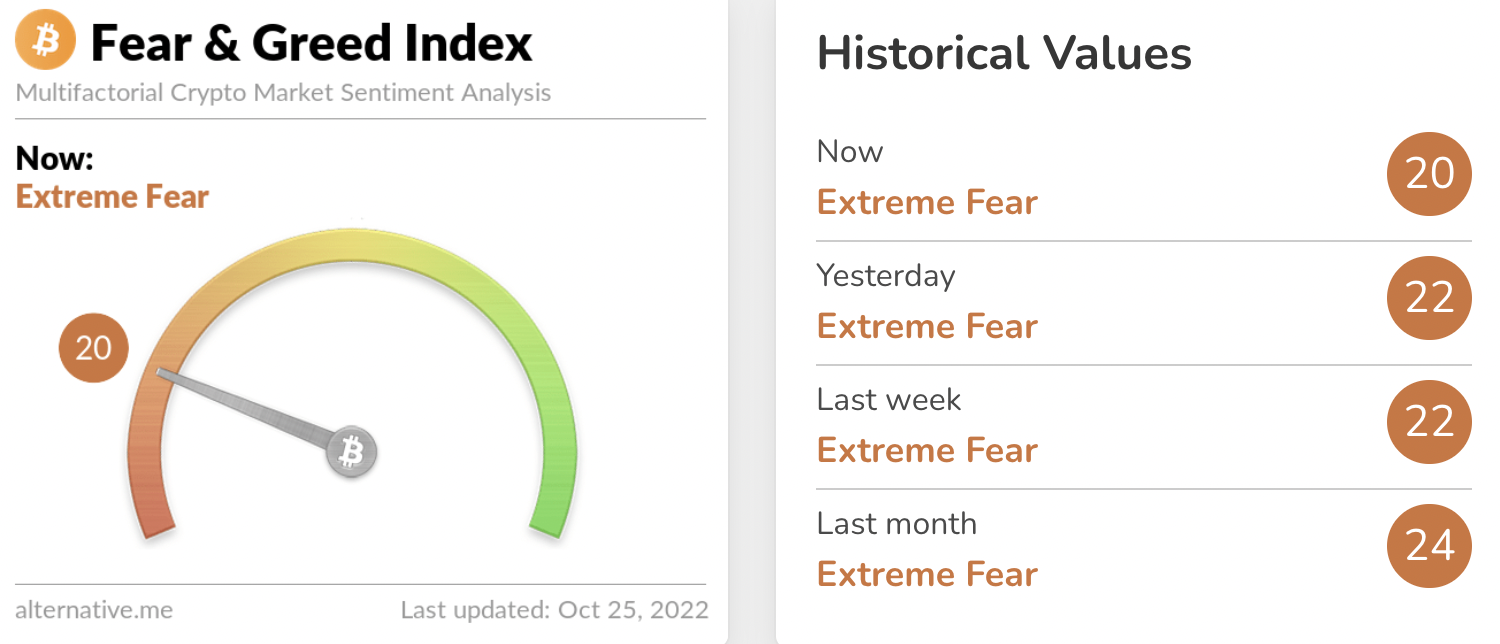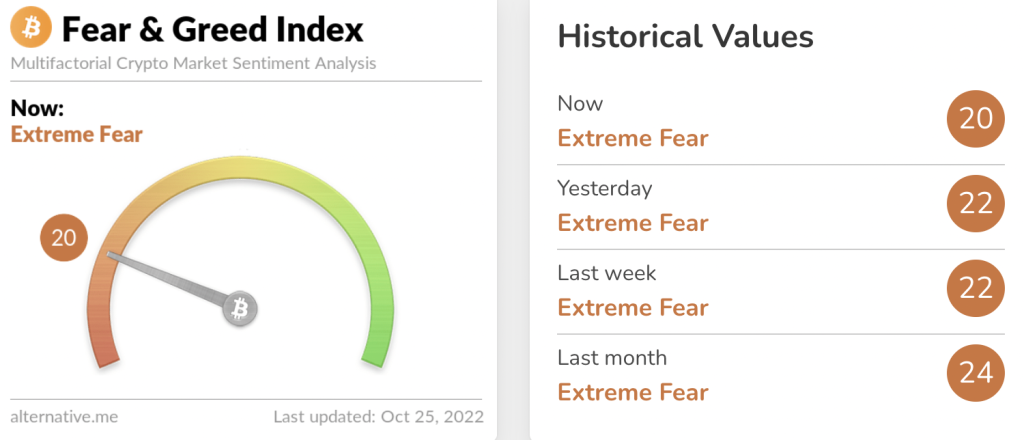 Key gainers and losers today
The cryptos currently registering the highest wins at publishing time are district0x (+6.91%), JasmyCoin (+5.55%), Chiliz (+5.10%), Theta Network (+4.64%), and Axie Infinity (+4.16%), according to live data from CoinSwitch.
Coins that are heading the other way for now include AirSwap (-5.07%), GAS (-4.70%), Aave (-3.97%), Maker (-2.72%), and Ripple (-2.63%).