With talk of a Dogecoin-Twitter integration doing the rounds, DOGE saw a huge price hike over the last week. DOGE's price jumped by over 100% in this period, making it the 8th largest crypto coin by market capitalization. The memecoin is hovering around the ₹10.50 mark.
The price surge is accompanied by a decent increase in daily trading volumes. According to crypto analytics platform Santiment, the number of DOGE transactions with more than $100,000 has risen. This could indicate higher whale activity at the memecoin's counter.
The Relative Strength Index (RSI), a momentum indicator, shows that DOGE is currently the most overbought coin since April 2021. That represents the current euphoria around Dogecoin and its buying momentum.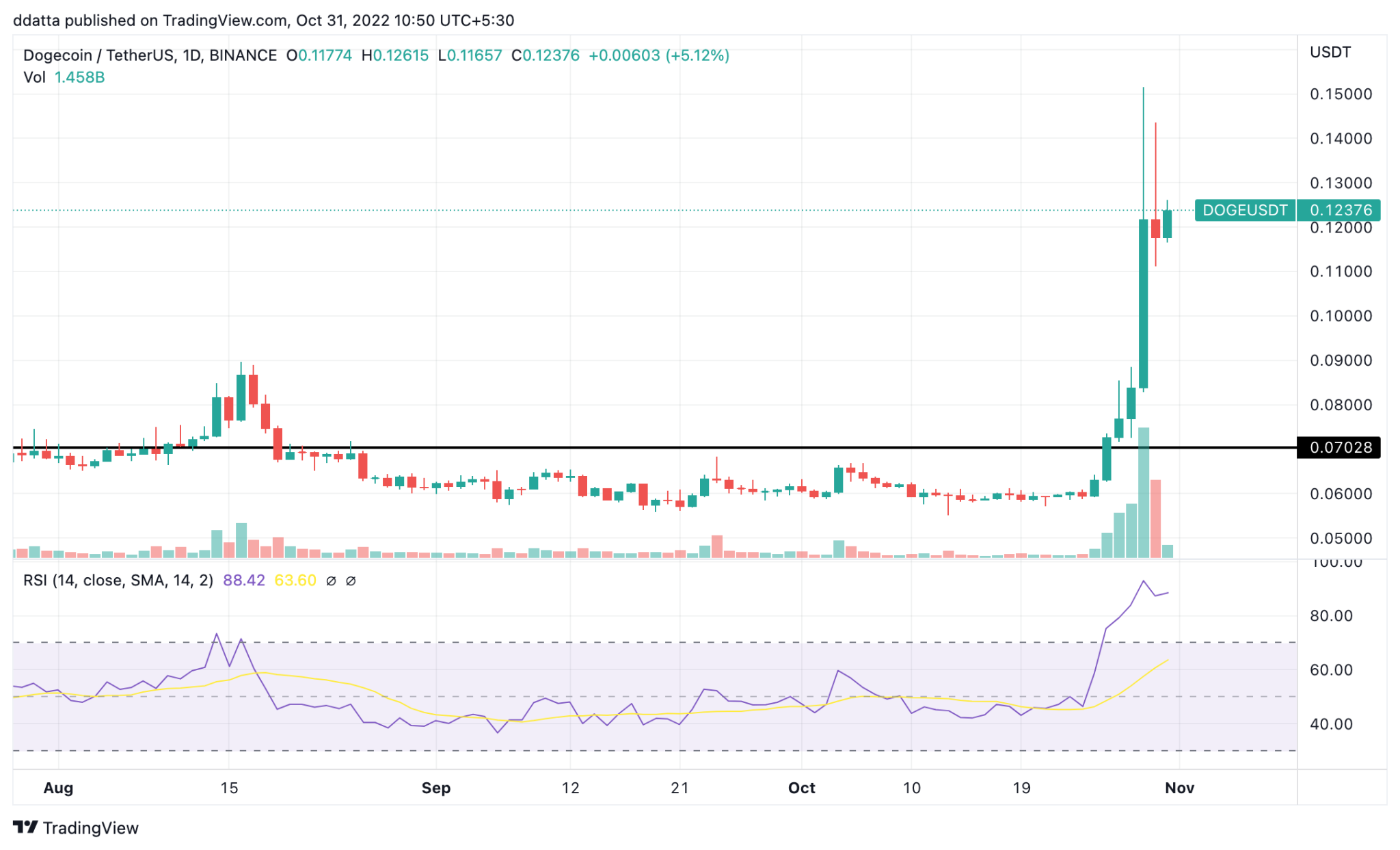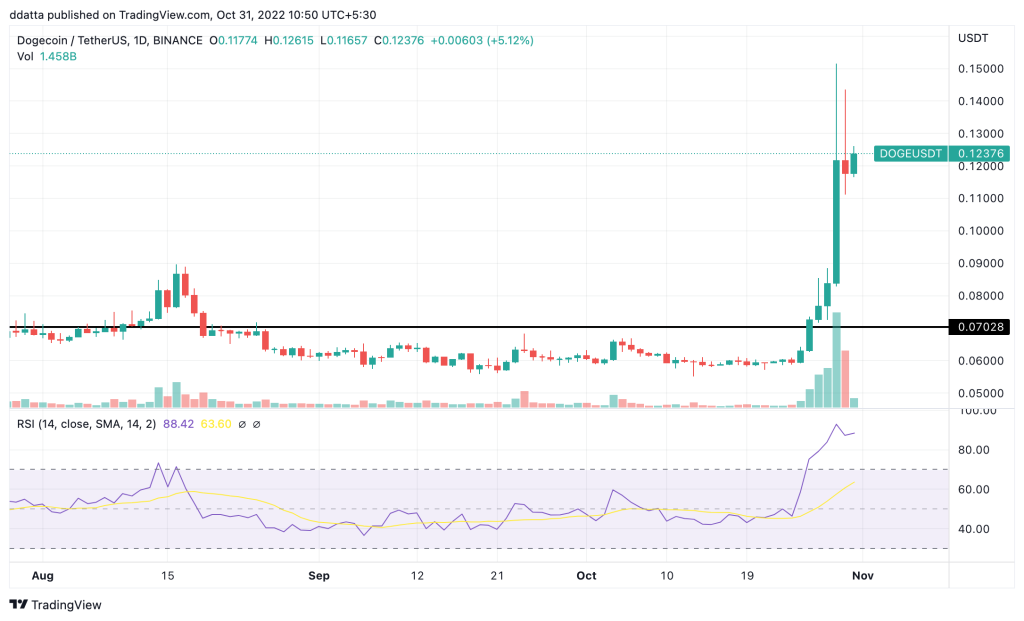 Source: TradingView
Why is Dogecoin going up?
Tesla CEO Elon Musk acquired the majority stake in Twitter last week. The development has fired up speculation around a possible integration of Musk's favourite coin as a mode of payment in Twitter. Investors believe that if the integration does materialize, it would improve Dogecoin adoption and therefore boost its price. The rising hopes are understandable because earlier, in January 2022, Musk's automobile manufacturing company, Tesla, started accepting DOGE as a mode of payment for merchandise purchase.
According to data from blockchain intelligence platform IntoTheBlock, 62% of DOGE holders are making money at current prices. That means the number of users profiting from Dogecoin is higher than BTC, where only 54% take home profits, and Ethereum's 57%.
Nicknamed Dogefather, Musk has been pretty vocal about a potential Dogecoin-Twitter integration. On 29 October 2022, Musk reportedly said that he may bring more cryptos onto the platform, according to a Bloomberg article. The move, he believed, could help reduce the presence of bots on the platform and promote free speech.
Connected developments
A Musk "super app," where digital assets like Dogecoin play a key role, may also be in the cards. The app would make messaging, games, payments, and more available on Twitter.
Meanwhile, another crypto company Binance has also confirmed investments of $500 million into the social media platform along with Musk. The news broke when CEO Changpeng Zhao stated that the company will play a role in bringing social media and Web 3.0 together. It will also help boost crypto adoption and broaden the use of blockchain technology in the daily lives of people.