The Bluesky initiative team of developers, led by Jack Dorsey, unveiled a new version of its social protocol, on 18 October 2022, called the AT Protocol, short for "Authenticated Transfer Protocol."
The social protocol aims to allow social media users to have control over their data. They can also move it from platform to platform without needing permission from the original platform.
The news was first announced via a blog post from Bluesky. Soon after, it was shared on their official Twitter handle.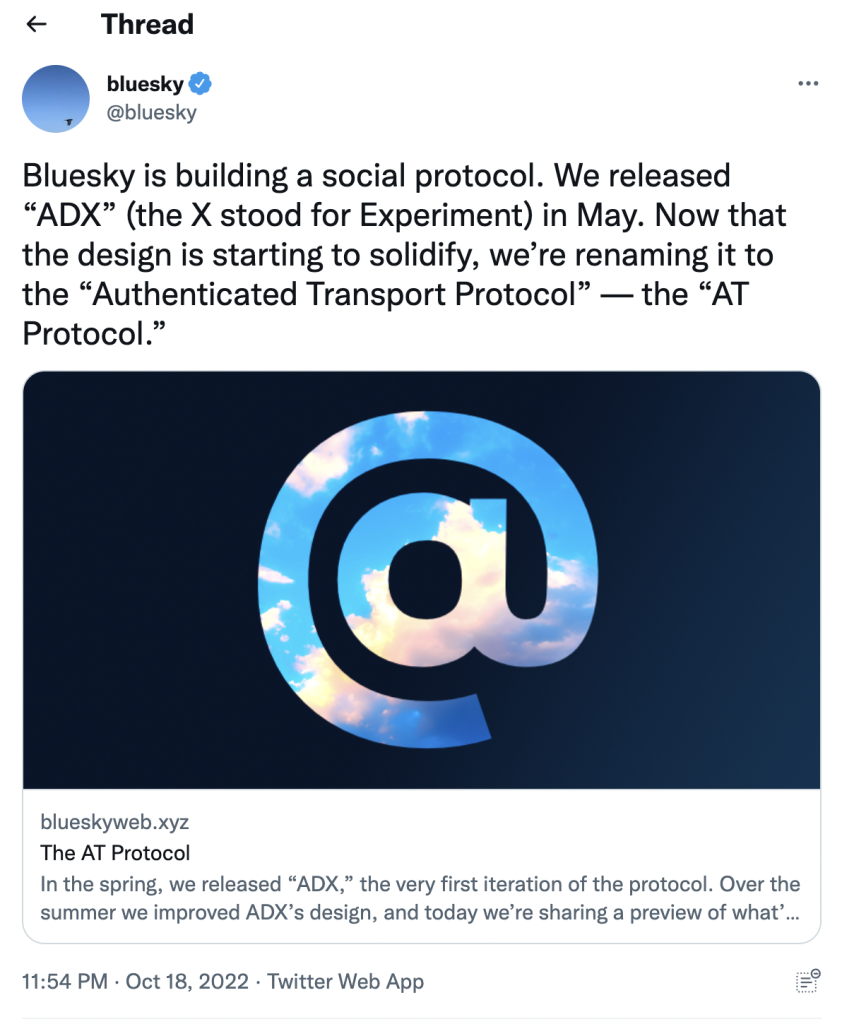 How it all started
The initial plan for the app was announced three years ago. It was called Bluesky Social app then. At the time, Dorsey announced that Twitter, which he then headed, would be bringing together a small, independent group of developers to create an app like the current one.
A 2019 tweet reveals that Dorsey asked the collective to work with a single objective: creating a decentralized social media protocol. The dream was that such an app would serve as a new standard for online connectivity, free from corporate and governmental influence. However, Dorsey left Twitter two years later, in late 2021.
Subsequently, there was a long silence on the matter. Dorsey and team have now emerged from the shadows to make the latest announcement.
What has been happening on the Twitter front?
Meanwhile, Twitter is undergoing a tumultuous legal case with Tesla and SpaceX CEO Elon Musk. At the heart of the dispute is the ownership of the micro-blogging site, but also the conversation around privacy.
In fact, recent developments in the case revealed that Dorsey had even exchanged texts with Musk. In the texts, Dorsey urged Musk to take over Twitter and operate it as an "open source protocol, funded by a foundation."
How is the AT Protocol different from other social media apps?
The AT protocol is meant to remedy the rampant misuse of user data, for targetted advertising and other nefarious activities. The protocol give users the rights over their personal information, unlike other social media apps like Twitter and Instagram.
With the AT protocol, user identity will be handled by domain names that are mapped on to cryptographic URLs. This wil help secure user data. In addition, this data can also be ported from one provider to another "without losing any of your data or social graph."