MakerDAO, the decentralized autonomous organization (DAO) that supports stablecoin DAI, is moving $500 million worth of the token to US Treasury and corporate bonds. As much as 80% of the funds from its overcollateralized stablecoin will go toward short-term US Treasury bonds. The remaining 20% will be invested in investment-grade corporate bonds.
The decision to allocate some pilot funds was made by the DAO after Wednesday's vote, which went in favor of the proposal from June. The result of the poll was first shared on MakerDAO's official Twitter official handle.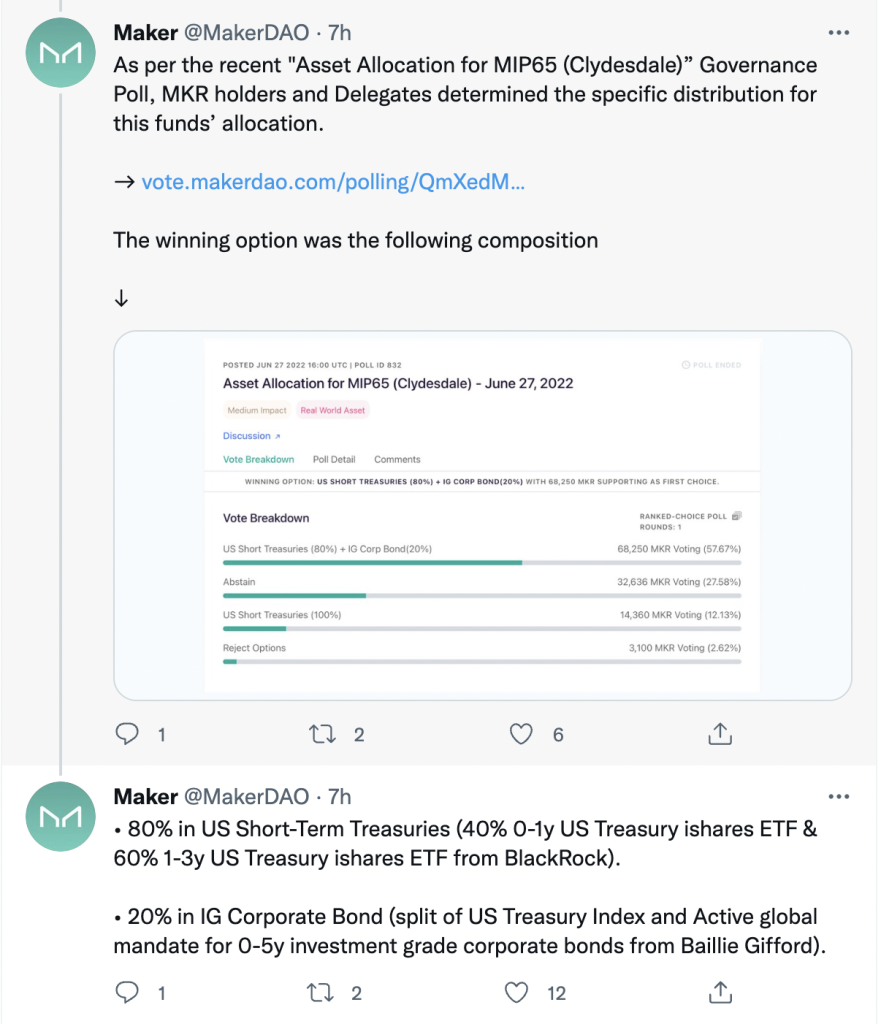 A pilot deployment of $1 million was completed after the vote. A full investment is expected to follow in the next few days.
The decision from one of the oldest DeFi providers comes amid a bear market in the digital asset space. Stablecoins like DAI have been the subject of much heated debate since earlier this year. The $40 billion ecosystem of one of the most well-known algorithmic stablecoin platforms, Terra, imploded in May this year, significantly contributing to market bearishness.
The plan that spells some hope for the future of stablecoins and the crypto industry also arrives at a time when the DeFi space is facing multiple hacks.
With this move, MakerDAO is aiming to diversify its balance sheet, limit exposure to any one asset, and expand revenue, according to a statement issued on 6 October. In addition, the move is meant to promote the use of digital assets in the traditional space, extending DAI's influence beyond crypto.
The DAO has partnered asset advisor firm, Monetalis, for the allocation. The leftover funds will be divided equally between investment management firms Sygnum Bank and Baillie Gifford. Monetalis will be responsible for dividing up the remaining funds.
The allocation will take place in two phases. In the first phase, Sygnum will work with BlackRock Switzerland to allocate $250 million.