With the broader crypto market starting another day in the red, it is clear that the effects of the FTX collapse will linger for a while. Early on Thursday, the market is trading at a discount of 1.93%, compared to yesterday. Crypto trading volumes have dropped over the past 24 hours, losing 3.84% in the interim. And today, we see Bitcoin dominance increasing marginally (0.12%) to 38.40%.
As of now, even traditional markets are trading low, with the NASDAQ dropping 1.54%, since yesterday. S&P 500 is down 0.83%, showing that the equity space isn't too upbeat either.
In the crypto space, a number of otherwise exciting crypto counters like that of DOGE and XRP are trading flat—showing an ongoing tussle between buyers and sellers. The most impactful piece of information to come out of all this is the beaten-down DeFi space—primarily led by Solana's insane 70% drop in TVL (Total Value Locked). Ethereum and Polygon TVL figures have also taken a hit.


Drop in TVL: Defillama
Crypto Fear and Greed Index
The index, currently at 20, has slid further into the "Extreme Fear" territory. Yesterday, the index was trading at 23. The drop to the 20-level signals a loss of buyer confidence across the market.


Crypto fear and greed index: Alternative.me
Historically, 20 has acted as a support level for the Fear and Greed Index for quite some time now, with the index rebounding every time it touched the mark. However, the index could dip further as concerns over the FTX collapse keep investors edgy.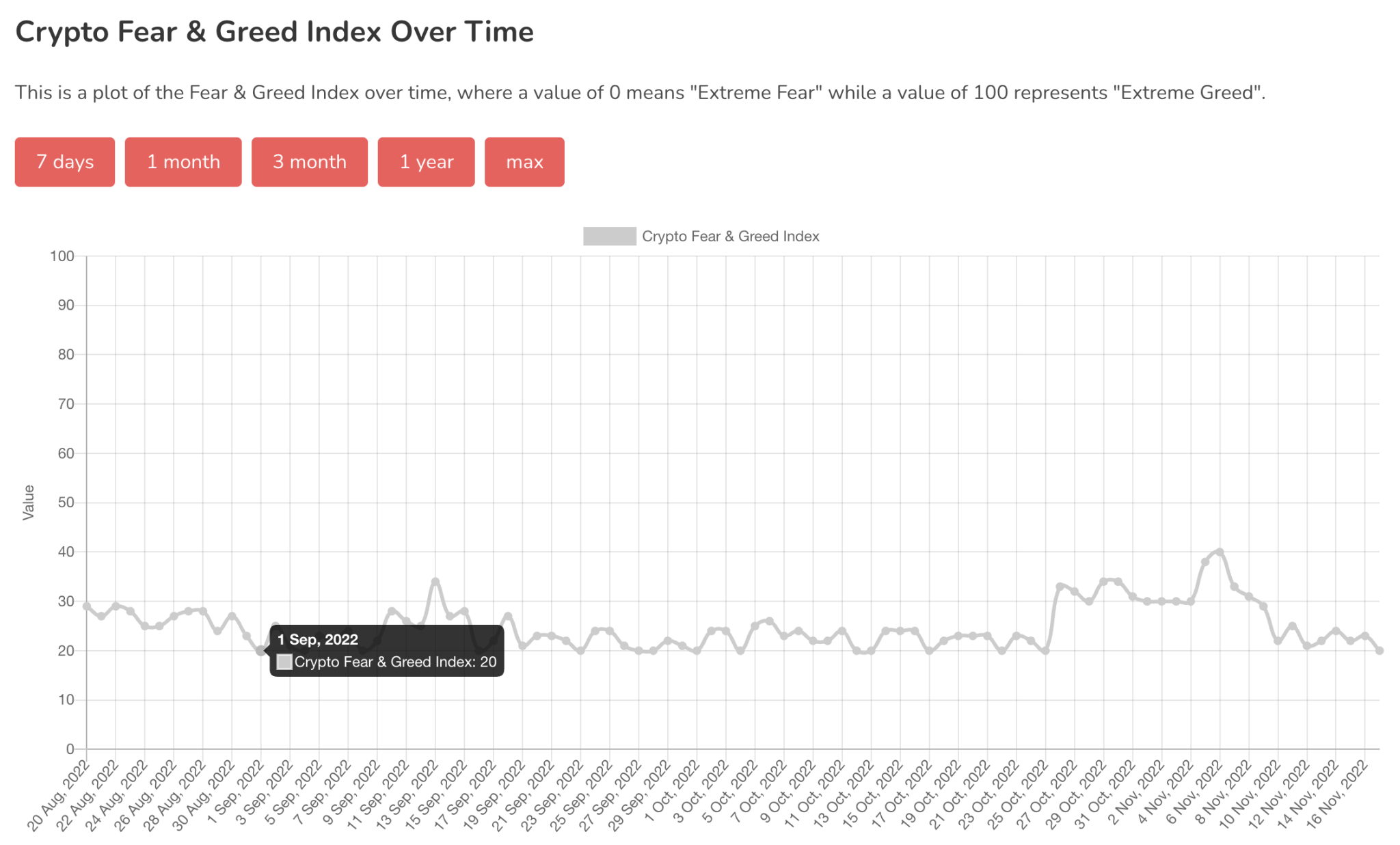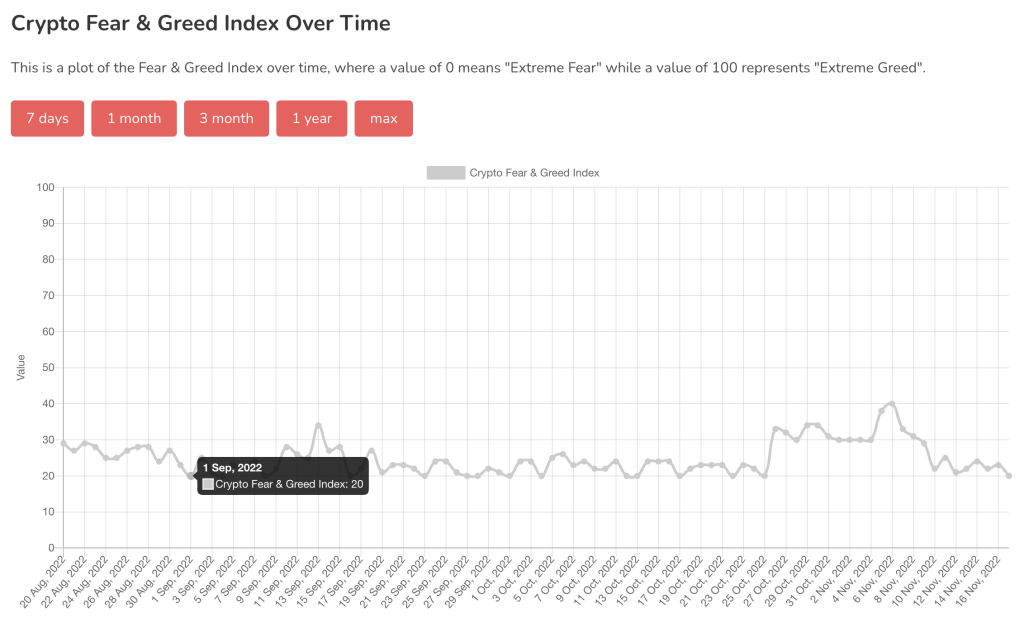 Crypto fear and greed index: Alternative.me
Top gainers and losers
Here is a list of today's top gainers—as of 9.00 a.m.—which might help you make informed decisions:
Polymesh (POLYX): +11.68%
DFI.money (YFII): +10.77%
AirSwap (AST): +7.92
Among the bottom performers are:
NKN (NKN): -8.13%
Band Protocol (BAND): -7.99%
Loopring (LPR): -6.73%
Key coins
Looking at major coins, Bitcoin (BTC) and Ether (ETH) are in the red, down 1.85% and 3.99%, day-on-day, at press time. However, they are both up 1.15% and 3.59%, respectively, week-on-week, which shows that they are steadily shrugging off the post-contagion effects.
Ripple (XRP) is up 8.03% week-on-week, but its daily performance hasn't been inspiring, given the 1.25% drop at the time of writing. DOGE is up 9% week-on-week, whereas Polygon (MATIC) is trying its best to negate the strong bearish vibes with a 1.90% week-on-week uptick. The daily price action for most of these cryptos isn't looking bullish, but over the past week, they seem to be doing all right.
The current price action trends mean that the broader crypto space might need some more time to stabilize. The aftermath of the FTX collapse hasn't been easy on any of the major crypto assets. Meanwhile, you could focus on building a reliable DYOR strategy for the long term while waiting on the sidelines as the market recovers.