As the US Federal Reserve continue to raise interest rates, the famous American author of the best-selling book Rich Dad Poor Dad, Robert Kiyosaki, has come out in support of Bitcoin, calling it one of the investments to buy.
The writer recommends that users "BUY more" of Bitcoin, silver, and gold, since the prices of all three are likely to drop if the Fed hikes continue. The opinion came to light via a tweet shared on 2 October 2022.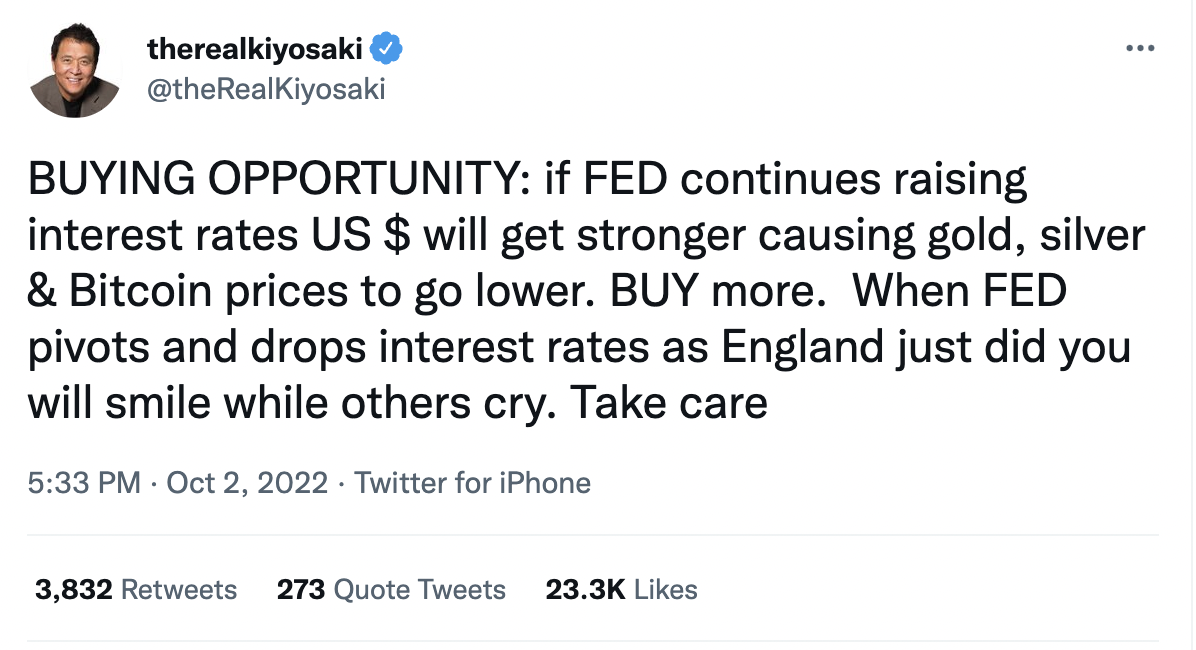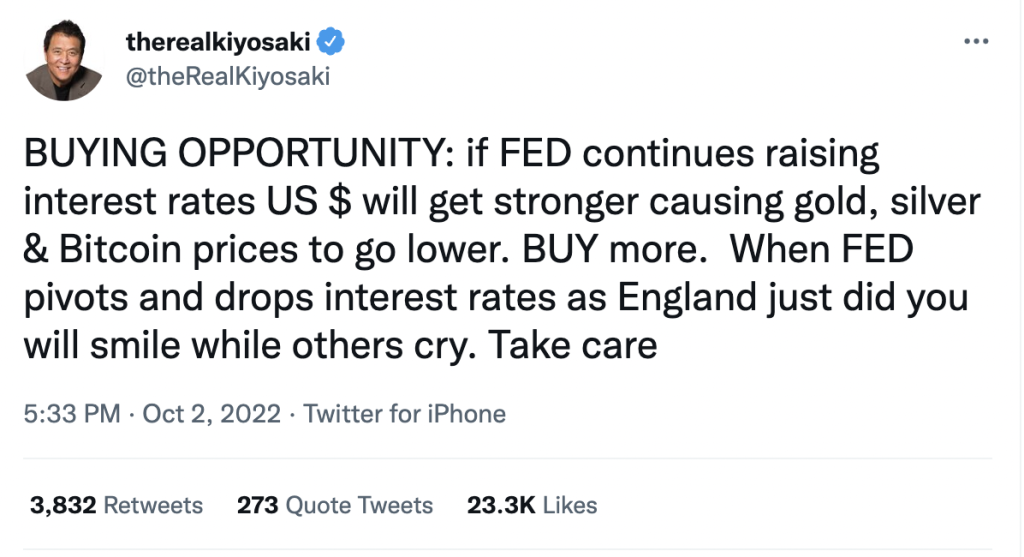 Rich Dad Poor Dad, Kiyosaki's well-known work published in 1997, is one of the most famous books on personal finance out there, and its popularity hasn't waned. Although the book is several decades old now, it has been on the New York Times Best Seller List for over six years. Besides, Kiyosaki has 2.1 million followers. So the writer's tweets are of enormous significance and influence.
Kiyosaki also envisions that the US dollar crash is likely to happen by January 2023, following the footsteps of the British pound (GBP). On 26 September, GBP fell to $1.03, an all-time low. The dip came just days after the country's highest tax cuts in 50 years.
Earlier this year too Kiyosaki argued that this is the onset of the "biggest economic crash in history."
The pro-crypto stance also isn't a new for Kiyosaki. The American businessman has been a strong supporter of asset classes that the Fed cannot directly manipulate since May 2020. In an attempt to respond to the COVID-19 pandemic period at the time, the Fed resorted to the mass printing of money. Kiyosaki reacted by asking people to "get Bitcoin."
Ever since he has been warning investors to get Bitcoin to save themselves against the possible inflation.
Interestingly, Kiyosaki takes a pro-Bitcoin stance despite not believing it has any value.