The much-awaited Shiba Eternity game, developed by the popular memecoin Shiba Inu (SHIB), is live globally, according to an official announcement. The game was initially released to users in Vietnam and Australia for beta testing and is now live for the global SHIB army.
The Shiba Eternity game, believed to be the most complex collectible card game, allows its users to choose among 10,000 Shiboshi heroes, 500 collectible cards, 87 card traits, and 21 special bark powers.
The collectible card game is now available for users to download and play on both Android and iOS devices.
Within just a few hours of the launch, Shiba Eternity became the #1 card game on iOS in several countries. In this, it outperformed famous card games like UNO, Card Thrower 3D, and Monopoly Solitaire. Shiba Eternity also achieved over 10K downloads on Android devices a few hours after the launch.
The news also coincides with Shiba Inu's outpaced growth on the retail trading platform eToro. In a recent report shared by eToro, MANA and SHIB saw the biggest year-on-year surge in HODLers in the last quarter, rising 437% and 269% compared to Q3 2021.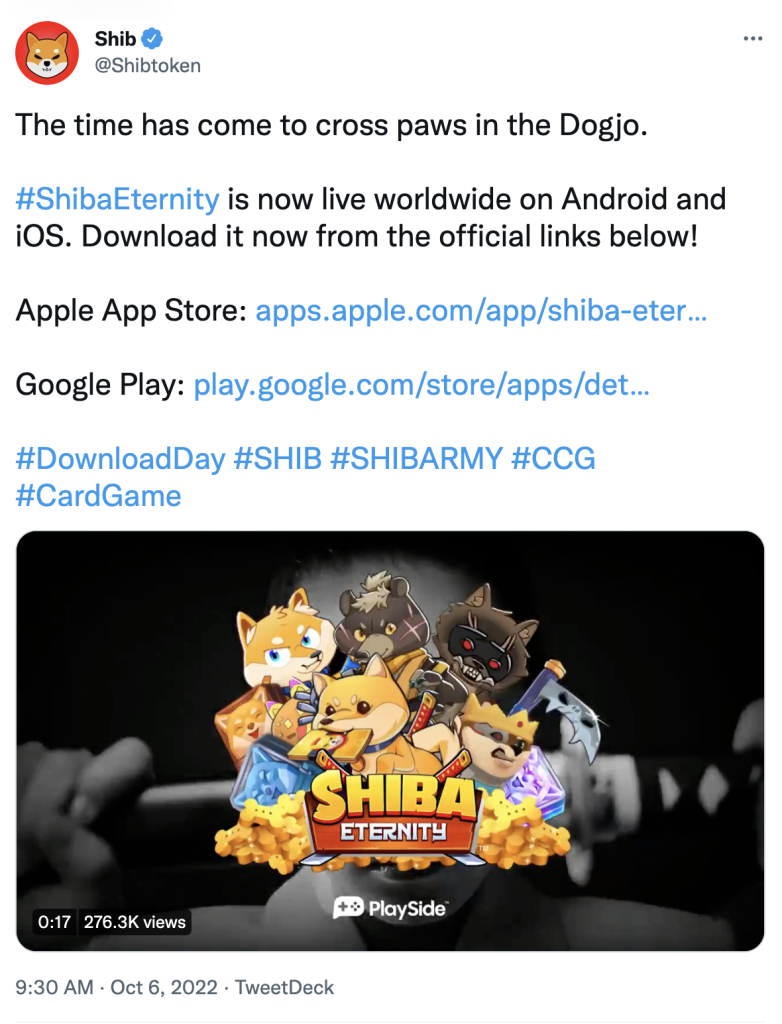 The Shiba Eternity game has been in the making for almost two years, and it was much-awaited by the SHIB community. The game was developed by William Volk, Alpha director at Shiba Inu Games and an expert in the gaming industry.
Despite the excitement over the release of the Shiba Etherenity game, the SHIB community is demanding the release of Shibarium, a Layer-2 solution for Shiba Inu. The memecoin provider has been developing the Layer-2 solution for the Shiba Inu network called Unification.
The Shiba team had promised a beta test for Shibarium in the third quarter of 2022. However, no details on the approximate dates for the long-expected release are available so far.