Shiba Inu holders have something to cheer about despite the coin experiencing a 5.57% weekly drop in its price action. As of 15 November 2022, Shiba Inu was holding the top rank in terms of assets managed by the top 5000 Ether whales, according to data from Whalestats.
The data shows that ETH whales, who have been holding onto some large deposits of Ether, are optimistic about SHIB's prospects as a crypto asset. WhaleStats's Twitter handle released the information, with MKR and UNI ranked the second and third favorites with ETH whales.
🐳 The top 5000 #ETH whales are hodling

$75,289,824 $SHIB
$58,694,355 $MKR
$50,253,460 $UNI
$43,593,452 $LOCUS
$39,330,252 $BIT
$33,105,058 $BEST
$31,725,680 $LINK
$29,067,831 $CHZ

Whale leaderboard 👇https://t.co/kOhHps8XBB pic.twitter.com/ENrYvc3bUt

— WhaleStats (tracking crypto whales) (@WhaleStats) November 15, 2022
The presence of MakerDAO and UniSwap tokens is not surprising as they are some of the more popular DeFi protocols around.
Shiba Inu's price action
Yet, the title of ETH whale favorite hasn't done a lot for Shiba Inu's price action. If you look at the daily chart closely, you will notice that the prices are currently trading between $0.00001027 and $0.00000855, with the first level acting as a resistance and the other as support.
To have any chance at moving higher from the existing levels, SHIB would first need to breach the $0.00001027 level. Currently, SHIB is trading at 0.00000912, which is in fact closer to the support. For the onshore traders, the Shiba Inu price in India is currently at ₹0.000829, which is at a 1.63% deficit compared to yesterday's price.
Coming to the price chart, we might see some more correction in the short term as the EMA lines (Exponential Moving Average) are forming a death-crossover pattern of sorts. The red line, which is synonymous with the 20-EMA, is crossing under the 50-EMA line (orange line). A short-term correction often follows this sort of pattern, also known as the death crossover.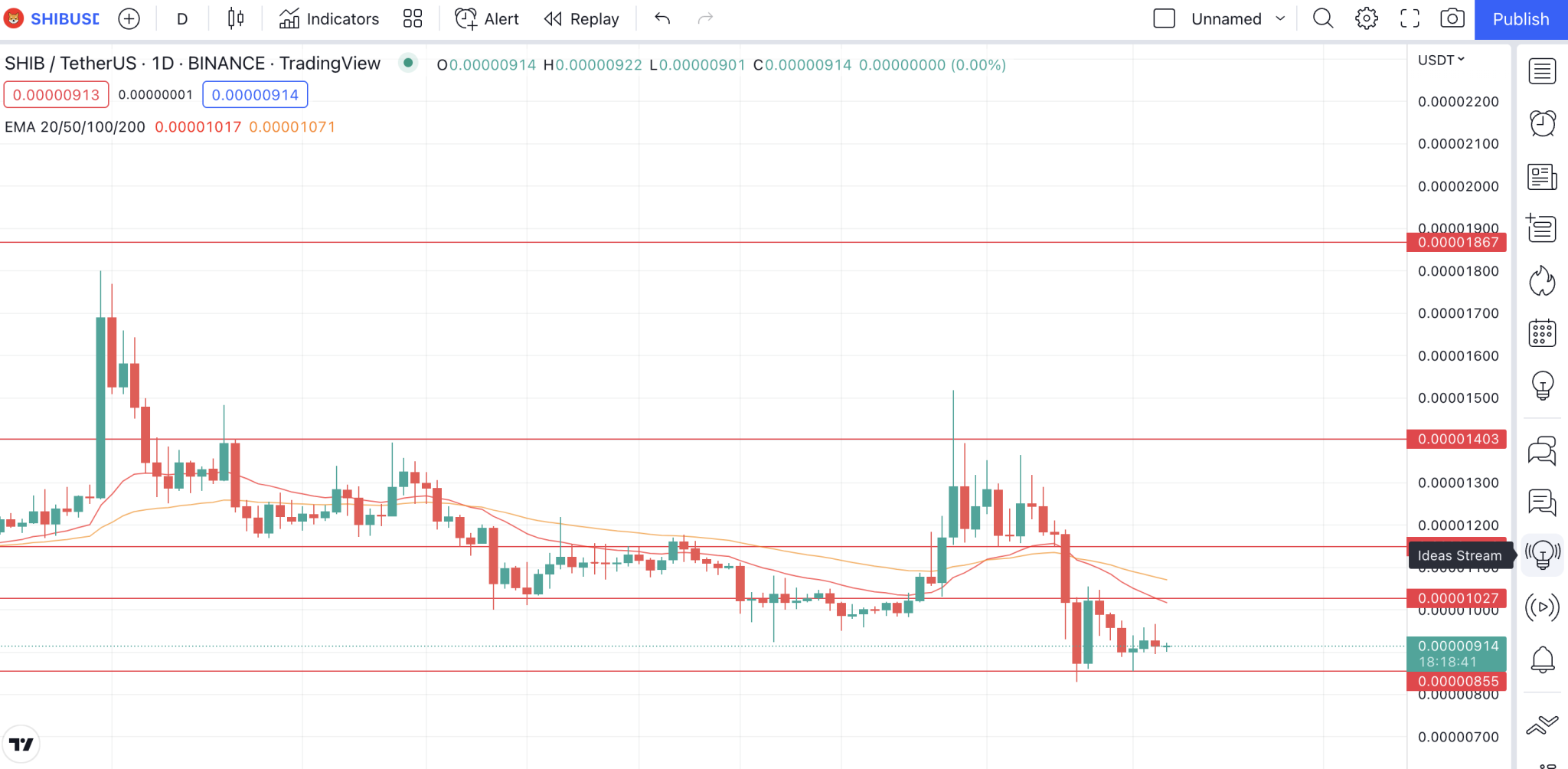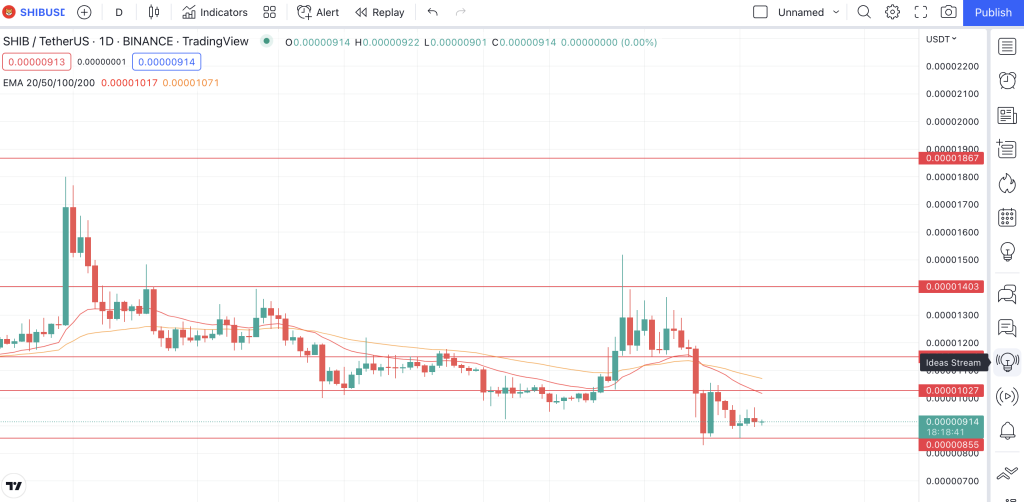 Shiba Inu price action: Tradingview
However, ETH whales holding SHIB as their favorite means you might want to look at the big picture. The list shared by WhaleStats also throws the spotlight on Chiliz (CHZ) and Chainlink (LINK) as they have also made it to the list of top 5000 whale holdings, showing their love for data oracles and fan tokens that come with voting rights.