Update: On 8 November 2022, Binance—the crypto exchange led by Changpeng Zhao—proposed to acquire rival FTX. The move comes amid the reported liquidity crunch as crypto firms and traders pulled money from FTX. The announcement initially propelled a dropping market—with SOL crossing $30 within minutes of the news breaking out. However, the gains flatlined shortly. At the time of this update (9 November 2022), SOL is trading at $20.62 — down 4.62% in the past hour.
This is a developing story. Please check back for more updates.
"Ethereum killer" Solana (SOL) fell by over 18% in a 24-hour span as concerns emerged over the quality of assets held by trading firm Alameda Research, a sister company of crypto exchange FTX.
With losses for two consecutive days now, SOL is down by 10.81% at publishing time and was priced at $28.4. FTT, a token issued by FTX, also fell by over 18%.
A brief background of the crisis
Alameda Research is a prominent trading firm and market maker founded by Sam Bankman-Fried, who is also the CEO of FTX. While the two businesses function independently, rumors abound over their close relations.
Last week, a CoinDesk report revealed that Alameda held $14.6 billion in assets and $8 billion in liabilities. Significantly, the report said, of this $3.66 billion consisted of FTT tokens. FTT token holders get discounts on trading fees and other benefits on FTX.
The "Private financial document" cited by CoinDesk further showed that Alameda held: $2.16b of "FTT collateral", $292 million of "unlocked SOL," $863 million of "locked SOL", and $41 million of "SOL collateral".
In other words, the report suggested that much of the assets held by one of the largest market makers on FTX were illiquid and largely consisted of a token issued by FTX.
In the words of Cory Klippsten, CEO of Bitcoin financial services firm Swan.com, "Alameda business is actually FTX's own centrally controlled and printed-out-of-thin-air token."
Soon after, Changpeng Zhao, CEO of Binance who is popularly referred to by the acronym CZ, tweeted his company will sell off all its FTT holdings as part of "post-exit risk management." The liquidation would be executed over the coming months to avoid a price crash. Binance was an early investor in FTX, and as a result of its exit from FTX equity last year, it was given $2.1 billion in cash equivalents, including BUSD and FTT.
Alameda CEO Caroline Elison, in response, publicly offered to purchase all of Binance's FTT at $22. This, however, failed to calm the markets as FTT came under tremendous selling pressure. At one point, FTT crashed by over 30%.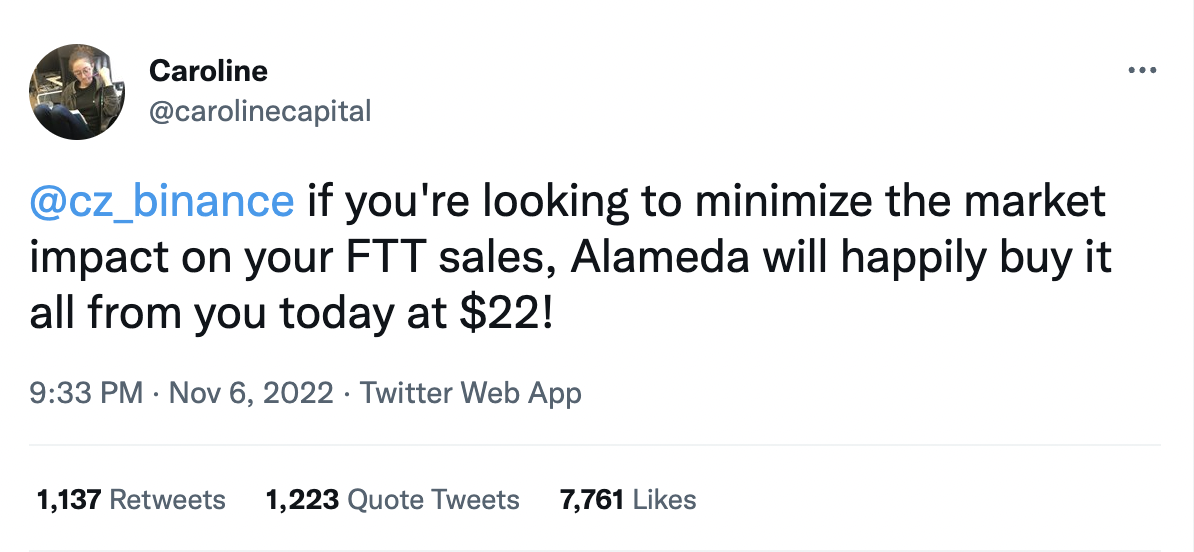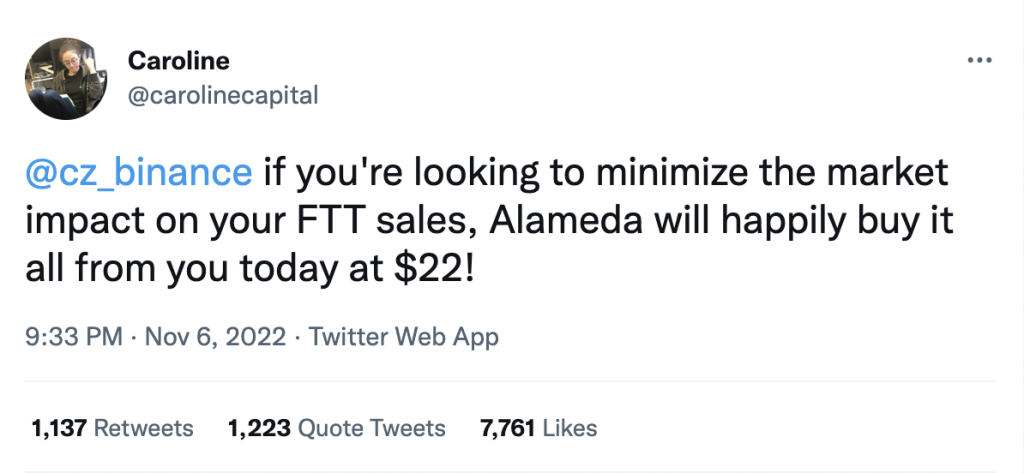 How is SOL impacted?
As FTT began to take a hit, and concerns over Alameda's asset quality worsened, SOL tokens, curiously, began to fall rapidly. Speculations are that, in an attempt to defend FTT's value at $22, the trading firm was bulk selling the native token of the Solana network.
For the record, FTX CEO Sam Bankman-Fried (SBF) said on Twitter that the exchange was far from being insolvent. "FTX is fine. Assets are fine," he tweeted. Alameda CEO Elison suggested in a tweet that "balance sheet info that has been circulating recently" does not give the full picture of the assets held by the trading firm. "That specific balance sheet is for a subset of our corporate entities, we have > $10b of assets that aren't reflected there," she said.