Summary
We've improved our crypto trading structure to enhance user experience.
The Last Traded Price (LTP) feature provides users with the most accurate price information for a crypto asset at the time of trading.
Our matching engine has been improved to reduce latency and ensure faster trade execution.
Users can now preview a transparent breakup of the order value and fees before executing the order, allowing for informed decision-making.
This new trade structure focuses on trust, transparency, and empowers users with complete control over their trades.
The path to simplicity is often the hardest. Making an intuitive consumer product is an iterative process, involving constant tinkering and tweaks. At CoinSwitch, simplicity remains the P0 for product-building. That 19 million Indians have installed and registered on the CoinSwitch app tells me we are on the right track.
Staying in the right lane, however, requires constant adaptations—hands on the wheel, eyes on the road. We have made one such change to our crypto trading structure. Your favourite crypto app retains everything you have come to love, but we have juiced up the engine under the hood. It is more powerful and more robust than ever before.
What do the changes mean?
Users benefit from an improved crypto price discovery via LTP, or the last traded price
Users can preview the transparent breakup of the order value and fees paid before it is processed
Users can view the estimated price before the order and the exact market value of the trade at execution
A lot has gone into the making of this new trade structure. But I won't bore you with the technical details and the code changes that got us here. Instead, let me walk you through the most important change you will observe on the app.
Last Traded Price (LTP)
The last traded price is a mechanism that ensures our users discover the most accurate price information for a particular crypto asset on our app at the time of trading.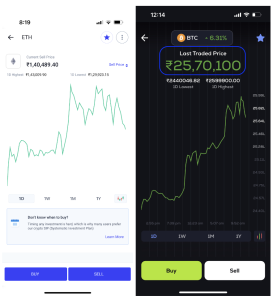 Previously, users found two different prices for a crypto asset: the buy price and the sell price, as per the state of the order book at that moment. This wasn't the simplest way to discover the price of an asset or to make a decision to purchase or sell. We know this because many of our users told us so. We heard them and fixed this.
Powerful Matching-Engine
We didn't stop at LTP, though. We took the opportunity to further improve our technology stack by reducing the latency of our crypto trading platform for faster matching. Latency on a crypto exchange refers to the average time it takes for a trade to be executed after an order is placed. In other words, it's the time between when the submission of an order by a user and its execution.
And time is critical in a fast-moving market like crypto. A delay in execution could mean missed opportunities or even a higher price for the asset. So we went about improving our matching engine.
A matching engine, in simple words, does the heavy lifting when our users place an order to buy or sell a token. When a user submits an order to buy or sell a token on the CoinSwitch app, our matching engine goes about matching that order with an appropriate counter-order from the market makers. This function is crucial in ensuring efficiency, and a fair and transparent trade.
Over the last few months, our team has done extensive work in improving our matching engine even further, as well as order matching, order prioritization, and trade execution. The result is an extremely low latency. This is to say, we are now able to execute your buy and sell orders faster than ever before!
Transparent Pricing
Successful work on this new trade structure also helped us meet a theme we had set for ourselves at CoinSwitch: Trust & Transparency. With the faster trade execution and LTP in place, we were also able to address a few other pain points our users faced. One of these concerns was full visibility into the fees users would incur and the price they would pay before the order is completed.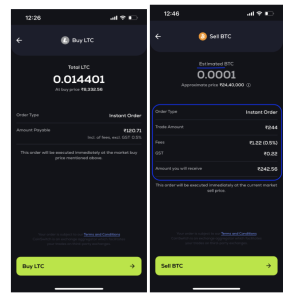 Going forward, on CoinSwitch, users will be able to preview the transparent breakup of the order value and fees to be paid before the order is processed. This will provide users with complete visibility into the transaction they are about to make, enabling them to make informed decisions. Further, users will also be provided with the estimated price before the order and the exact market value of the trade at execution, giving them a clear understanding of the transaction they are making, and complete control over their trades.
This is a paradigm shift in our systems, and I raise my hat to all those involved in building this. I feel blessed to call upon our Avengers—comprising the smartest minds in product, engineering, finance, data analytics, design, user research, customer support, communications, tax, and legal—to execute such extraordinary work.
Many small iterations such as these add up to significantly improved user experience. A satisfied user is all the fuel we need at CoinSwitch.