Here's a little something about me: I grew up in Meerut, a city in Uttar Pradesh. Growing up, Hindi was my language of choice; in conversations with family and friends, and through school and college. When I started my first job, I understood that the language of money in India is English. Strange, isn't it? India, a country of 1.4 billion people who speak 22 scheduled languages and many more dialects, does business in English.
But a shift is underway. Indian languages are gaining prominence, as technology companies look to serve millions of Indians coming online for the first time. We're doing our bit too. I'm proud to say that CoinSwitch is expanding its language capabilities to assist users in 5 regional languages: Marathi, Bengali, Kannada, Tamil, and Hindi.
We drew inspiration from our year-end report, which highlighted a rise in crypto adoption in smaller Indian cities. This is only a small step toward speaking our users' language as we continue to innovate and build an exciting wealth tech destination for India.
We also just launched 'Stories': a way for you to discover the latest action in the world of finance in a couple of taps! You can check out Stories by clicking on the green-ringed button at the top of your screen.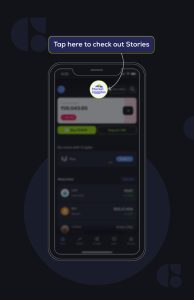 And keep your feedback rolling in so we can get better!
Now, on to matters of the heart. The shortest month of the year is also my favorite time of year. Because, one exciting week in February brings together two important dates on my personal calendar: my birthday and my wedding anniversary. So this time around, I'd like to thank my better half.
In the five years that my wife and I have been married, I've begun to see her as more than just a partner. She's a sounding board, a friend, a confidant and a critic, all rolled into one. Her opinions help me make better decisions and she's also helped me be a better leader.
In my last email, I talked about one of my goals for the year: more transparency. Recently, I wrote about how crypto exchanges like CoinSwitch must win user's trust by being more honest about practices and processes. You can read the piece that I wrote with Arushi Goel of the World Economic Forum here.
Speaking of transparent practices, early in our journey we decided not to support crypto deposits and withdrawals. I understand this is a highly debated topic, and not everyone would agree with our choice. But as a platform built for every Indian, we make some conscious choices on what we offer to our retail users and what we don't. I wrote more about this on LinkedIn and would love to hear your thoughts on this.
That's all from me in February. We have some exciting launches and features coming your way very soon and I must get back to helping our teams perfect them.