CoinSwitch has launched India's first multi-exchange pro trading platform called CoinSwitch Pro for crypto traders.
If you love trading and want to make some money from the price difference across multiple exchanges, CoinSwitch Pro is for you. After revolutionizing crypto investing for over 18 million Indians, CoinSwitch is bringing the ethos of tech innovation and consumer-centric product development to pro traders. On India's first rupee-denominated multi-exchange trading platform, CoinSwitch Pro will enable you to trade across exchanges with a single login.
We know that with all things new, people have a ton of questions: How should I get started? Where can I find my order history? Wonder no more because here is where you find everything you need to navigate our new KYC-compliant platform.
What is CoinSwitch Pro?
First, let's think of CoinSwitch as a supermarket that has aggregated all your favorite food and groceries. You open the shelf, pick the item, and pay for it. It's simple and easy to understand.
But what if you want even more choices? You go to the farmer's market. Here, at a single location, there are multiple sellers providing their produce at competitive prices. You can choose which seller to buy from. CoinSwitch Pro is the equivalent of a farmer's market: a single interface for you to buy and sell crypto from across multiple exchanges. You only need a single account to access the Indian Rupee-denominated crypto market.
What's more, you get advanced charts and analytical tools by TradingView and a unified portfolio to manage all your crypto investments across exchanges.
CoinSwitch Pro features
At CoinSwitch, we aspire to get you excited about trading every single day. The following Pro features should help get you there.
Multi-exchange trading platform
Different exchanges have different rates due to differing buyer/seller activities. CoinSwitch Pro allows you to profit from that by buying crypto from the one with the lowest price and selling it on another exchange. CoinSwitch Pro is the first trading platform in India to support cross-exchange trading or arbitrage.
On CoinSwitch Pro, you can access multiple major crypto exchanges in India. And all of this will be denominated in Indian Rupees, which means no hassle of currency conversions.
Single login
CoinSwitch Pro gives you access to other major exchanges in India with a single login. And you get a single portfolio to manage all your investments. One doesn't need to open multiple accounts on multiple exchanges anymore. This added simplicity translates into quicker trades.
KYC-compliance
With CoinSwitch Pro, you only need to complete your Know Your Customer (KYC) once to access multiple exchanges. This offers convenience and compliance in one go.
How to use CoinSwitch Pro
CoinSwitch Pro is specifically designed to meet all your advanced trading needs on a single screen.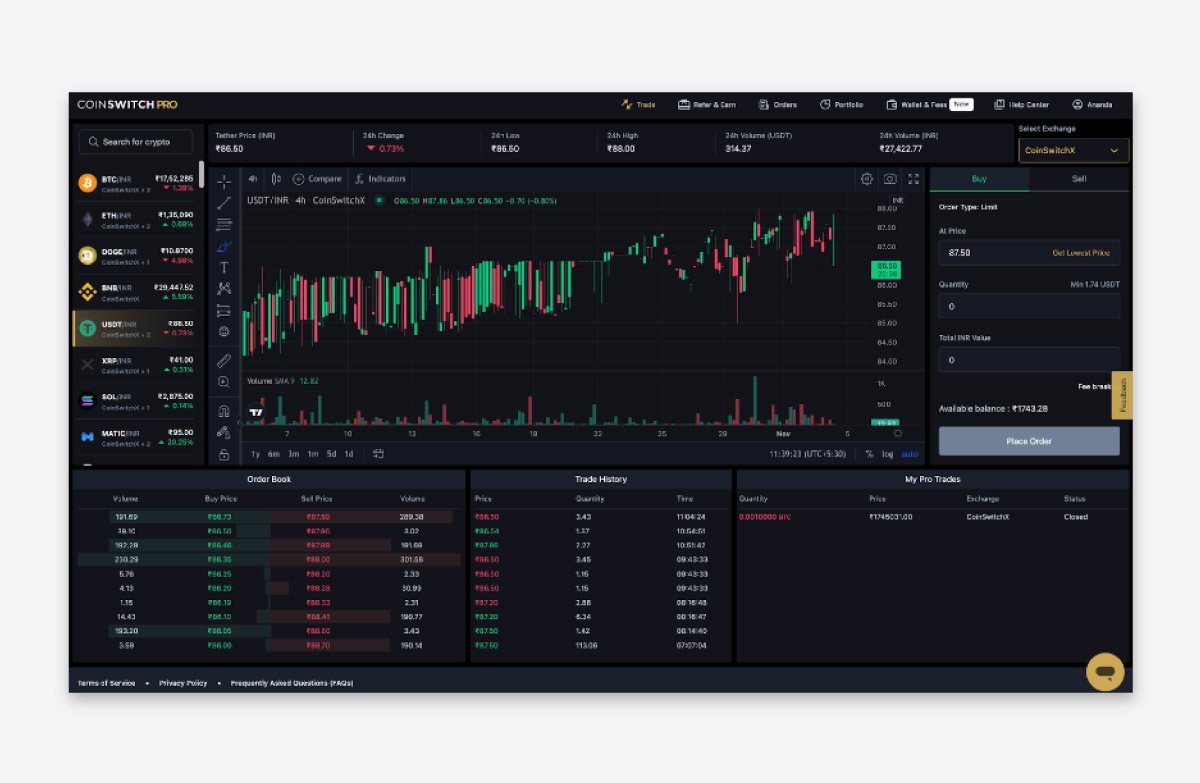 The list of coins/tokens can be found on the left side of the interface. In the center, you will find all the charts you need for every crypto listed on the CoinSwitch app. On the extreme right side of the interface, you have the Buy/Sell section, with all prices denominated in INR for quick order execution.
At the bottom are your order book and trade history. (More on this below.)
At the top of the screen is the ticker, consisting of a variety of information that you might want to know at a glance—from 24-hour price change to volumes.
Finally, on the top right of the interface, you will find the option of checking the full history of your orders, segregated exchange- and date-wise. The Wallet and Portfolio options next to it could help you track your CoinSwitch funds and check whether your trades are working out.
Regular buying and selling
CoinSwitch Pro lets you initiate buy and sell orders with ease.
First things first, you must log in to the CoinSwitch Pro website on a laptop/desktop with your CoinSwitch login credentials. And confirm that you have the necessary funds transferred into your CoinSwitch account before you start trading.
Once these things are in place, you can begin to initiate a trade. Start by selecting the price (current or limit) you're looking for, mention the number of tokens you want to buy, and place the order. For instance, if you're looking to buy two MATIC tokens, see the screen below to understand how you could go about doing it.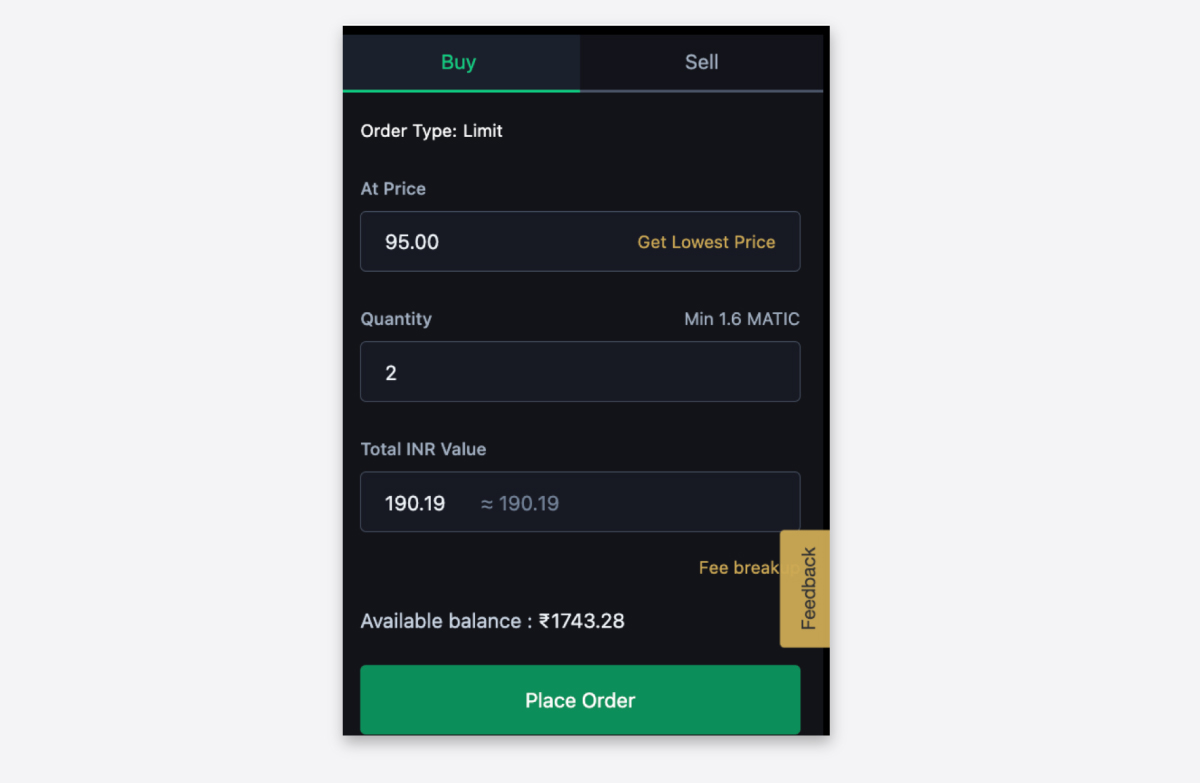 Executing sell orders is equally easy. You simply need to move to the Sell tab, select the exchange that you want to sell your tokens on, and simply place the order. Again, see the image below for reference.
Now suppose you want to sell the MATIC tokens you purchased at a different exchange. The Pro user interface will show you a complete breakup of the fees involved, including the trading fee.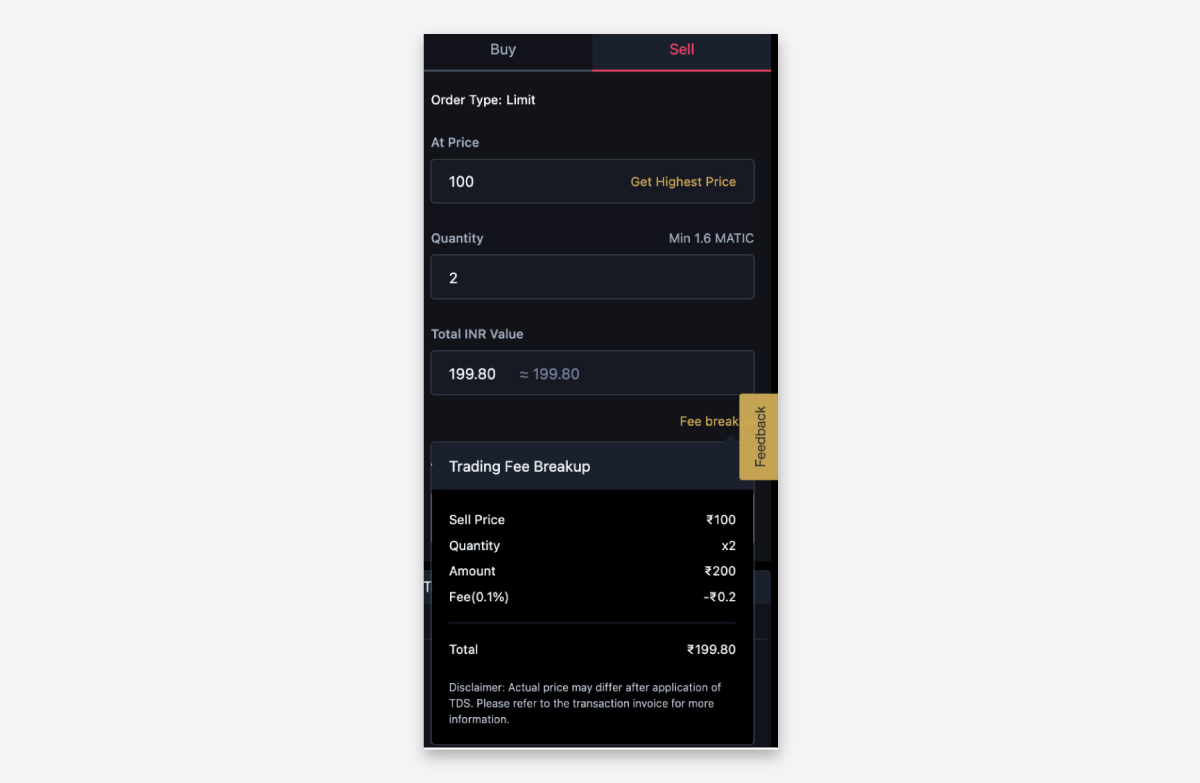 To encourage traders, CoinSwitch Pro also has volume-based discounts. This means that you can get an additional discount on the trading fee of 0.1% when you start bringing in more trading volumes. For details, simply visit the Wallets and Fees section.
Most orders at market price are immediately executed. If you're looking at a price that's lower or higher than the ones on offer at the moment, you can even set limit orders.
All orders, including limit orders, are visible in the My Pro Trades section located at the bottom right of the screen.
Arbitrage trading
You will find the exchange toggle option at the upper top right corner of your app (as shown in the screenshot below). Some cryptos (like BTC) will have support across exchanges, while others might be found on only one or two exchanges.
Technical analysis
CoinSwitch Pro can find you a chart for any time frame of your choice (half-hourly, hourly, 4-hourly, daily, weekly, or more). Comparing prices across time should help you spot key price movements.
By going Pro, you can also find all the key trading indicators in one place. Yep, you heard that right. Gone are the days when you had to juggle between external sources that had all the charts, draw patterns, lines, and place indicators necessary, and the trading interface.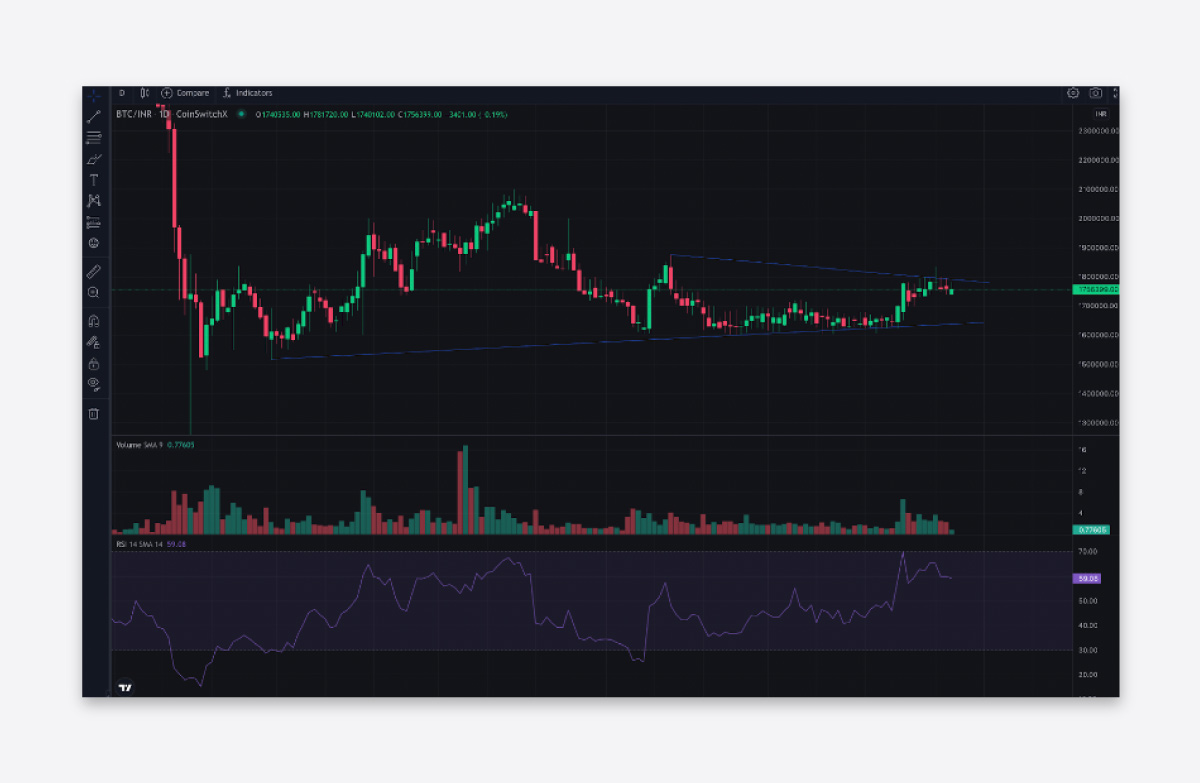 Finally, the Pro version of CoinSwitch helps simplify things by displaying the values or levels on each chart in the Indian rupee.
Some bonuses
In addition to the primary, trading-specific features we've discussed so far, there are more exciting features that add value to CoinSwitch Pro users' trading journey.
First, there is the "Refer & Earn" option. The more friends and community members you share Pro with, the more you stand to gain.
In case you face any issues while using the platform or need any clarification, you can contact us via the "Help Center" section. Our live agents will promptly support you on all working days. No more queues, no more confusion.
To summarise, CoinSwitch Pro brings India's first multi-exchange crypto trading experience to traders. With detailed charts and the possibility of making money via arbitrage, it arms traders with the necessary tools to make money in any market.